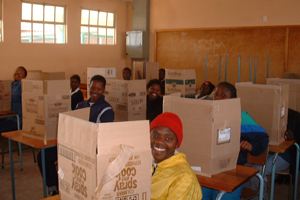 Face off: In running economics experiments it is important to ensure subject anonymity. In non-university settings this can take on innovative forms, as seen in the picture above, where pupils take part in an economics experiment.
The Faculty of Commerce's School of Economics is soon to launch a pioneering behavioural and neural economics research unit to understand the way in which people in developing economies assess risk and make decisions - knowledge that will ultimately pave the way for more effective policy-making in Africa and elsewhere in the developing world.
The facility, the first in Africa, will be called the Research Unit in Behavioural Economics and Neuroeconomics (RUBEN) and will be affiliated to the global Cross-University Brain and Behaviour Initiative (CUBBI). CUBBI is an internationally-recognised centre of excellence on brain and behaviour studies, comprising researchers from UCT and the University of Stellenbosch.
Under the directorship of Associate Professor Justine Burns, RUBEN's aims to create a better understanding of human behaviour and decision-making by giving researchers from around the world - and especially from Africa - opportunities to undertake experimental economic research on the continent. Ultimately the researchers hope to influence policy-makers to create more effective policies, which take human behaviour into account.
RUBEN will serve as the intellectual anchor in Africa around which training, research leadership and technical resources will be concentrated for the benefit of researchers throughout the continent, explains Dean of Commerce Professor Don Ross, a member of the team responsible for RUBEN's establishment.
Ross says RUBEN is the coming together of a number of separate research projects - all of which rely on behavioural economic techniques - under a common banner. He believes this convergence is long overdue, and will provide not only an identifiable centre of excellence for work of this kind, but also allow for economies of scale in project design and execution.
"Our work will directly target the study of African social, political and economic systems by providing new evidence on incentive mechanisms that might surmount development challenges in a variety of areas."
Ross explains that research has shown that the most important variables affecting outcomes in microeconomic development initiatives among vulnerable groups, such as the urban poor and at-risk youth, are attitudes to risk and the cost of waiting.
"The evaluation of any policy to help people respond to uncertainty should take into account risk aversion, the manner in which risk-coping strategies might confound policy-makers' expectations about future outcomes, and the extent to which beneficiaries of programmes are able and willing to bear the costs of waiting," he says.
These insights will be integrated into a wider range of development issues in Africa. "The idea is to build capacity that will support the training of African researchers in world-class behavioural economics research, while also facilitating the work done by world-class behavioural economics researchers on African issues," Ross adds.
RUBEN researchers will employ state-of-the art technology and pioneering empirical measures, previously unavailable in Africa, to test the effects of risk and uncertainty on development outcomes in order to better understand individuals' intertemporal consumption. (Economic theories of intertemporal consumption seek to explain people's preferences in relation to consumption and saving during their lifetime.)
A team of researchers in the School of Economics has developed and demonstrated mastery of a new range of internationally-advanced methods for empirically determining and modelling the effects of attitudes to risk and intertemporal utility among groups of people in specific circumstances.
These methods are based on three kinds of investigation, pursued conjointly in each case: field experiments, behavioural experiments in the laboratory, and experiments conducted under MRI neuroimaging - also referred to as 'neuroeconomics'.
Since applications of these methods to specific problems in development often involve expertise beyond that found in economics, an interdisciplinary team of researchers in health, resource conservation, impulsive consumption, and micro-scale investment will be affiliated to RUBEN.
Joining the Unit in the application of these methods are researchers from several UCT departments and research centres, as well as international experts on risk and time preferences Professors Glenn Harrison and Warren Bickel, and Dr George Ainslie. A UCT honorary professor, Ainslie is considered a pioneer in the field of behavioural economics.
Researchers also hope to gain an understanding of why individuals may be willing to save or invest in non-financial (as opposed to financial) instruments. "This is an important development question," says Ross. "This needs much more investigation, in many different settings. We doubt there is a single pattern that uniformly describes all of sub-Saharan Africa, with its rich cultural variance."
RUBEN will also turn the spotlight on the HIV / AIDS pandemic and look at measuring attitudes to risk, and at understanding the direction of causation between changes in patterns of HIV spread and changes in general attitudes to risk. "In light of repeated empirical failures to find reliable strong links between sexual behaviour, HIV incidence and knowledge about HIV, these findings could be central to designing effective policy interventions," he says.
---
This work is licensed under a Creative Commons Attribution-NoDerivatives 4.0 International License.
Please view the republishing articles page for more information.
---