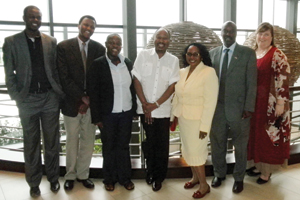 Participants in the Nyerere Bid discovered their institutions shared many priorities when they met recently. (From left): Prof Abdoulaye Niang (Dakar); Teshome Nekatibeb (Addis Ababa); Dr Nana Aba Appiah Amfo (Ghana); Prof Thandabantu Nhlapo (UCT); Prof Verdiana Grace Masanja (Rwanda); Prof E Katunguka-Rwakishaya (Makerere) and Lara Dunwell Hoffenberg (UCT). (Absent: Prof Moctar Doucure (UCT) and the representatives of the University of Nairobi and the Catholic University of Leuven. The latter gave invaluable technical support in the bid process.)
UCT and six other African universities pooled ideas and resources recently in order to submit a joint bid to establish a postgraduate project aimed at cultivating academic mobility on the African continent.
The project is an initiative of the European Union in partnership with the African Union. UCT has bid to lead a consortium of African universities in a project in which staff and students can undertake complete Masters and 'sandwich' PhD degrees at collaborating institutions.
The Programme intends to grant scholarships to facilitate exchanges between African universities and is supported by the European Union via the Intra-ACP University Mobility Programme. The latter programme promotes cooperation between higher education institutions and supports mobility in Africa, as well as in the Caribbean and Pacific regions. It encourages sustainable development and poverty alleviation by increasing the availability of trained and qualified high-level professional manpower in those regions.
For the uninitiated, a sandwich degree allows postgraduate students the flexibility to initiate a degree at one university and then carry out research or further study at another institution - usually in another country. In the final phase of this degree, students return to the first institution to complete their studies and present a thesis or dissertation.
In preparation for the Nyerere bid, a team which included staff from UCT's International Academic Programmes Office (IAPO), led by Prof Thandabantu Nhlapo, collaborated with Makerere University, the National University of Rwanda and the Universities of Addis Ababa, Cheikh Anta Diop de Dakar, Ghana, Nairobi and European technical partner Katholieke Universiteit Leuven to prepare the bid.
IAPO's Mobility & Links manager, Lara Hoffenberg, explained that the project had been dubbed 'ARISE' - the African Regional International Staff/Student Exchange. In short, the idea behind this programme and others of this nature is to create "brain circulation" as opposed to a brain drain, Hoffenberg says.
"It also offers an invaluable boost to students at the start of their academic careers, as well as staff at a later point in their careers, to meet and interact with academics and students from other countries and to gain new perspectives and ways of seeing the world.
"Whether our bid is successful or not, all the institutions that came together for this joint bid are already benefitting from the spirit of cooperation that has permeated the bidding process," maintains Hoffenberg.
"The bid has served as a catalyst to make contact with our counterparts elsewhere in Africa. In the process we have got to know our colleagues and partners from participating universities, discovered many shared priorities and have been able to work together in meaningful ways."
If the bid is secured, the ARISE initiative should contribute to ensuring an increase in Masters and PhD African graduates in the selected academic fields of agriculture sciences, education and teacher training, engineering, technology, medical sciences, natural sciences, and communication and information sciences.
The ARISE programme plans for 55 full degree scholarships for Masters students and 33 sandwich PhD mobilities. Provision has also been made for a further 22 academic and administrative staff mobilities to address the need for the professional development of university staff. While staff opportunities are reserved for the partner universities, student opportunities will be competitively available to all African nationals.
The outcome of the Nyerere Bid will be published in July.
---
This work is licensed under a Creative Commons Attribution-NoDerivatives 4.0 International License.
Please view the republishing articles page for more information.
---