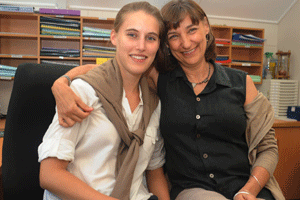 Multi-prize haul: Star MBChB undergraduate Nicola Sienaert with mum, Dr Marilet Sienaert, director of the Research Office.
Fourth-year MBChB student Nicola Sienaert cleaned up at the recent health sciences undergraduate prize giving, with a haul of eight medals and prizes.
These were the Class Medal for Pathology components Integrated Health Systems; the Class Medal for Becoming a Doctor; the Class Medal for Integrated Health Sciences; the Arderne Forder Book Prize for the MBChB student who has shown the most improvement in Medical Microbiology; the BJ Ryrie Book Prize for meritorious work in Anatomical Pathology in third year MBChB; the Raymond Zetler Book Prize for the MBChB student with the best examination results in third-year Chemical Pathology; the Golda Selzer Prize for achievement in Virology in second-and third-year; and the Stanley Philip Neumann Memorial Award.
Sienaert follows in the footsteps of her late grandfather, who was a physician. She also has UCT ties; her mother, Dr Marilet Sienaert, is director of the Research Office.
Sienaert took the long route to medicine, first completing a BA (cum laude) at UCT and then doing a gap year in France before coming home to start a MBChB.
"I spent eight months in Paris, juggling two jobs," she says. "I taught English at a pharmaceutical company during the day, and in the late afternoons and evenings I worked as an au pair looking after two Parisian children."
Starting a new - and long - degree at the age of 25 takes some doing.
"There are quite a few mature students in the class, and I think we all experience some degree of stress (financial and otherwise) associated with committing to such a long and demanding degree at an older age. But there are also advantages. My previous degree afforded me the time and maturity to be sure I wanted to study medicine, and made me better able to cope with the demands."
Sienaert will be in her early 30s when she completes her community service, and says she can't see herself committing to four or five more years of intense study.
"On the other hand, there are lots of areas in medicine that really interest me."
---
This work is licensed under a Creative Commons Attribution-NoDerivatives 4.0 International License.
Please view the republishing articles page for more information.
---