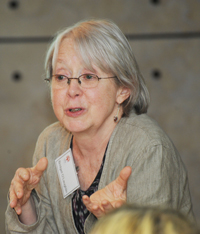 Balance of power: Bridget O'Laughlin (Institute of Social Studies, The Hague, Netherlands) addresses workshop participants on the impact of AIDS on women's land rights.
There is a shift in unmarried women's access to land, says a recent Community Agency for Social Enquiry (CASE) survey of 3 000 women in three rural areas that were part of the apartheid 'homelands'. This contradicts the oft-repeated claims that customary law denies women access to land except through their husbands, fathers, brothers or sons.
This research was presented for discussion at a workshop on Gender, Land Rights and Contested Boundaries in Customary Law Contexts, convened by UCT's Law, Race and Gender Research Unit (LRG) on 15 and 16 March. The workshop reflected a collaboration between UCT, the Institute for Poverty, Land & Agrarian Studies (PLAAS) at the University of the Western Cape, and the Department of Sociology & Social Anthropology at Stellenbosch University.
"The workshop brought together some of the world's leading anthropologists and legal minds," says Dr Dee Smythe, director of the LRG. "This workshop really opened up new possibilities for us in thinking about how we measure and interpret evidence of social change in our research."
A central question for discussion was how to explain the shifts in women's access to land. Some of the contextual issues include large (and possibly increasing) numbers of single women establishing families outside of marriage and in a climate of increasing unemployment, particularly among rural men.
The impact of the transition to democracy in 1994 on the claims made by single women and the balance of power in rural areas was also highlighted as a central issue.
---
This work is licensed under a Creative Commons Attribution-NoDerivatives 4.0 International License.
Please view the republishing articles page for more information.
---