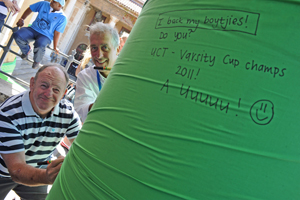 Going green: Dugald Macdonald and Prof Mike Meadows pen their messages of good luck on the 'Green Mile', a piece of fabric that will join the Ikey Tigers in Pretoria tonight.
Fans haven't been too pleased that the Ikey Tigers will have to play the Varsity Cup Final against Tuks in Pretoria this evening, far removed from the moral support that they've enjoyed on UCT's Green Mile - the length, more or less, of the rugby fields on Upper Campus - at their home games.
So the UCT Rugby Club is making sure the players will take the Green Mile with them. In a manner of speaking, anyway.
Last week, the club stretched a long strip of bright green fabric - the symbolic Green Mile - across the front of Jameson Hall. Students and staff - including executives - and other adoring fans were then invited to write messages of support, encouragement and 'gees' (spirit) on the cloth.
Among the first to pen their well wishes were Dugald Macdonald, president of the UCT Rugby Club, and Professor Mike Meadows, chairperson of the UCT Sports Council.
This evening, this Green Mile will be on proud display at the final, as a foil to the thousands of University of Pretoria fans expected to cheer on the Tuks.
"We're up for it," said Ikeys captain, Nick Fenton-Wells, at the signing of the fabric, "and it's going to be great to take a part of the Green Mile with us."
Statistics bode well for the Tigers, who have done well in Gauteng in the past. The team has lost just one match up-country during four seasons of Varsity Cup rugby - to North-West University's Pukke in 2009 - and they beat Tuks, at Tuks Rugby Stadium, only three weeks ago.
In addition, the team has been boosted by the availability of Western Province Vodacom Cup players Nic Groom, Tim Whitehead and Marcel Brache, all of whom started against Tuks last time, and SA under-20 lock Eben Etzebeth, who was rushed back from the SA U20 tour of Argentina for the semi-final against the University of the Free State two weeks ago.
"I'm stoked with the team that we will be putting out on the park come Monday night," coach, Kevin Foote, said in an interview with Varsity Cup.
After defeats in two finals and arch-nemesis, Stellenbosch University, mere onlookers, the Ikeys appears to be determined and chomping at the bit to get the Varsity Cup monkey off their backs tonight.
---
This work is licensed under a Creative Commons Attribution-NoDerivatives 4.0 International License.
Please view the republishing articles page for more information.
---