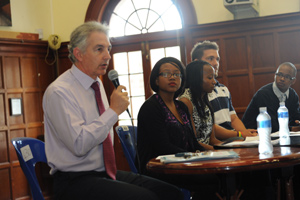 Hot debate: VC Dr Max Price raise his point while panellists Amanda Ngwenya, Amanda Mushanyare, Nick Fenton-Wells and Khayalethu Makhubu pay attention at SRC's panel discussion on UCT identity.
Rugby's dominance over other sporting codes, the exclusion of foreign students from scholarships, and who makes decisions were some of the concerns raised when the Students' Representative Council (SRC) hosted a panel discussion on 10 March.
Titled, To Whom does UCT Belong?, the discussion formed part of the SRC's events in March and April that aim to identify key focus areas to create a more inclusive UCT identity.
Opening the debate, vice-chancellor Dr Max Price suggested that the question should rather be to whom does a university belong, and noted that the university has a global duty to develop people from across the world, is accountable to the minister of Higher Education and Training, and the diversity of staff and students inside should feel proud of their institution.
SRC president Amanda Ngwenya said UCT should be a space for debates where issues will be challenged and remodelled, and that all groupings should be recognised. Amanda Mushanyare of the Zimbabwe Student Society was concerned that certain students are more advantaged than others, as is the case in students residing in upper campus, the undergraduates over postgraduates, and local students over foreigners. "More research must be made to ensure that all animals are equal, not some animals are more equal than others."
Ikey Tigers captain Nick Fenton-Wells believes that the team environment created by sporting clubs contributes to UCT identity, and that not enough efforts are being made to get students to participate in sport.
Khayalethu Makhubu of the Black Management Forum's UCT student chapter believes that UCT is currently in the hands of the elite, and should belong to all students. "We are situated in Africa, we are the best in Africa, and UCT should give an African child a place to belong."
The second event will be a week-long series of workshops in April, said Jessica Price, SRC's vice-president: external. Further details of the workshops will be announced in due course.
---
This work is licensed under a Creative Commons Attribution-NoDerivatives 4.0 International License.
Please view the republishing articles page for more information.
---