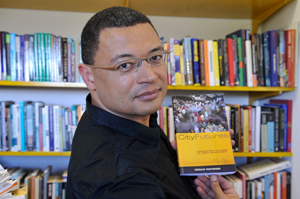 Urban life: Professor Edgar Pieterse, director of UCT's African Centre for Cities, delivered a lecture at the London School of Economics in the UK on 26 January.
Understanding the rapid urbanisation of African cities demands a new way of thinking, as traditional Western modes of thought are problematic when applied to Africa's unique situation.
"The inherited canon from western urbanism is not serving us well - we're trapped within the global discourse on how to think about this."
So argued Professor Edgar Pieterse, director of UCT's African Centre for Cities, at a recent lecture at the London School of Economics (LSE) in the UK.
This was the first presentation given by Pieterse at the school following the formation of a formal strategic global partnership agreement between UCT and the LSE in 2010.
"We have no fixed idea about what we're doing," said Pieterse on his research project. "We only know what we are trying to do - which is trying to see if it is possible to build an endogenous body of theory on the specificity of these emergent conditions in African cities."
In coming to grips with African urbanisation, Pieterse explored some adventurous avenues, such as inviting urban African artists to talk to scholars about their experiences and insights, in the hope that this communication would spark new ideas and fresh perspectives on the subject.
"It didn't work that well," says Pieterse, "but it didn't work in a very important way. We learnt a lot from that 'mistake'." In fact, a special issue of the UCT journal Social Dynamics will carry a number of the outputs of this research later in 2011.
So much was learnt that Pieterse plans to continue experimenting along these lines.
"In the next phase we want to try to make an even bigger mistake," he quips.
The plan is to invite teams of artists, curators and project managers from six African cities to conceive and launch an intervention on the theme of 'publicness' in their cities, and use these experiments to help scholars rethink their approach to the "elusive idea" of the African city.
"In engaging with African urbanisation," says Pieterse, "we need deep, ethnographic and contextual research to destabilise Western technographic assumptions."
---
This work is licensed under a Creative Commons Attribution-NoDerivatives 4.0 International License.
Please view the republishing articles page for more information.
---