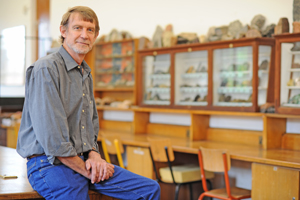 In the hot seat: As new dean of the Faculty of Science, Prof Anton le Roex knows he'll have his work cut out for him.
Professor Anton le Roex of the Department of Geological Sciences has taken the helm as the new Dean of Science, replacing Professor Kathy Driver, whose term as dean ended last year. A former deputy dean of the faculty, a position he held since 2001, Le Roex took office on 1 January.
Le Roex grew up in Pietermaritzburg. He earned his BSc (cum laude) at the University of Stellenbosch in 1975, his honours degree in geochemistry (first class) at UCT in 1976, and his PhD at UCT in 1980. He has been at UCT since 1982, and has held the university's Chamber of Mines Chair of Geochemistry since 1997. In addition to posts at UCT, he has held teaching and research posts at the University of Hawaii and the Woods Hole Oceanographic Institution in Massachusetts, USA.
In addition to his teaching and research duties at UCT, Le Roex has held numerous administrative posts. He headed the Department of Geological Sciences from 1991 to 2005, has been a member of the Senate since 1991, and was a student advisor in the science faculty from 1986 to 2002. Since 1998 he has served on 17 UCT and faculty standing committees, and he remains active on at least 10, two of which he chairs.
Le Roex has also sat on a score of scientific committees and working groups, including a number associated with the National Research Foundation (NRF). He is a member of the Geological Society of South Africa, the American Geophysical Union, the Electron Microscopy Society of South Africa, the Mineralogical Society of South Africa, the Royal Society of South Africa and the Geochemical Society.
His research interests lie in the field of igneous geochemistry and he has authored or co-authored 86 articles in peer-reviewed journals, two chapters in books, 23 extended abstracts and 95 abstracts. Since 1986 he has held a B1 rating from the NRF, and has been a Fellow of UCT since 2004.
Le Roex understands that, for the duration of the deanship at least, much of his academic work will have to take a back seat. The full-time move into administration, he says, springs from the crossroads he found himself at after nearly 10 years as deputy dean.
"The time had come for a change," he observes. "I had to consider either moving more formally into a higher administrative position, or withdrawing and moving back to a full-time research and teaching position."
The job is made easier by virtue of the faculty's high standing - it's easily the most decorated and celebrated science faculty in the country and on the continent (as the NRF ratings and international rankings will attest), and the international credibility of its degrees. The trick is to keep up that momentum; and as an academic himself, he realises that the faculty's reputation is built on that of its researchers.
"My job - and I've enjoyed doing this with my colleagues as deputy dean - is to try and facilitate activities that will allow them to operate more efficiently, and hopefully help the faculty grow in strength," Le Roex says.
There is one major challenge that the faculty will have to pay attention to, he believes.
"We have a lot of work to do to get our undergraduate throughput up. I think we can do better, and we have to be cleverer about how to do this without compromising what we believe are the appropriate standards."
The key, he says, is appointing the right people, and getting the right degree and support structures into place.
---
This work is licensed under a Creative Commons Attribution-NoDerivatives 4.0 International License.
Please view the republishing articles page for more information.
---