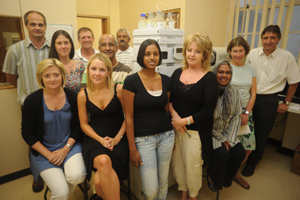 Teamwork: The heroes of the Clinical Pharmacology Laboratory: (back row, from left) Dr Lubbe Wiesnern, Dr Tracy Kellerman, Prof Peter Smith, Moegamat Noor Salie and Moegamat Faik Salie; and (front, from left) Jennifer Norman, Sandy Meredith, Katya Govendor, Alicia Evans, Afia Fredericks, Prof Helen McIlleron and Prof Gary Maartens.
The grant that UCT's Clinical Pharmacology Laboratory (CPL) recently received from the AIDS Clinical Trials Group (ACTG) Network in the US is a vote of confidence not in any one individual, but the labours of everyone in the CPL, insists the head of the Division of Clinical Pharmacology, Professor Gary Maartens.
"The heroes are the people in the laboratory, directed by Associate Professor Prof Pete Smith," he says.
Over the past decade, Maartens explains, the CPL has built up a track record second to none in the study of drug concentrations in African patients with HIV, tuberculosis and malaria, particularly among vulnerable groups. For example, the group's research has prompted changes in the doses of drugs administered to children, a famously tricky area.
That expertise has convinced the ACTG, funded by the US's National Institute of Allergy and Infectious Disease (NIAID), to award the five-year grant to set up the CPL as an International Pharmacology Specialty Laboratory for its human drug trials.
Not aimed at any specific project, the money is intended instead as an infrastructure grant. So it will be used in part to cover the salaries of the experts in the laboratory, and support the quality assurance programmes in the CPL to get it up to NIAID standards. The laboratory also received an additional equipment grant from the ACTG.
More than just the cash in the bank, joining the ACTG family an achievement of note, says Maartens. "Getting involved in this network is quite a big deal for us, as we will perform assays for specific projects and become involved in the design of future pharmacology studies within ACTG."
---
This work is licensed under a Creative Commons Attribution-NoDerivatives 4.0 International License.
Please view the republishing articles page for more information.
---