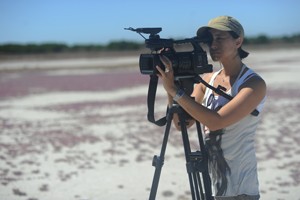 Video taste: Nawaal Deane, UCT's new video journalist, shooting her first research documentary on the West Coast.
Meet Nawaal Deane, UCT's video journalist, a brand new position that will extend the university's communications 'reach', both internally and externally. Based in the Communication and Marketing Department, Deane's job is to give a "face and voice" to UCT's strategic message, as she puts it. She will do so by covering specific research and executive communications, and creating research documentaries that best illustrate the university's goals, with the intention of distributing them to broadcasters and online sites such as YouTube.
The function was borne out of the realisation that most universities and media organisations are moving into the digital era, in which online news complements print and radio output. The video journalist position aims to enhance the strong communications UCT already has by adding a video component.
Of the importance of her job, Deane said: "Interviewing someone on camera gives them a voice and captures the essence of the person, which all people - regardless of their background or education - can then experience."
This means that in the near future, important bulkmail messages such as the From the Vice-Chancellor›s Desk, key talks and ground-breaking research will be shown on video. Deane is currently working on her first research stories, which she will add to UCT's official channel on YouTube, where the work can be viewed from anywhere in the world.
Deane brings an abundance of skills to UCT, having worked as a journalist, producer, camera operator, media consultant, and in technical operations for television and various national and international media organisations.
But what attracted her to UCT?
"There are numerous social responsiveness studies under one roof, where dynamic researchers are having an impact on the lives of ordinary South Africans.
"These are the stories I'm bursting to cover."
---
This work is licensed under a Creative Commons Attribution-NoDerivatives 4.0 International License.
Please view the republishing articles page for more information.
---