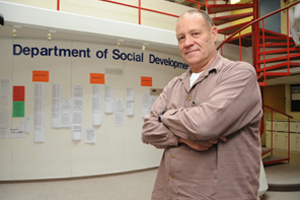 Taking care: Assoc Prof Eric Atmore has been re-elected as chairperson of the National Early Childhood Development Alliance, whose members keeps a watchful eye over the country's childcare centres.
The National Early Childhood Development Alliance (NECDA) has its work cut out, the 90 member organisations serving about 24 000 centres in the country's unregulated early-childhood development (ECD) industry.
That open market brings its own challenges, says Adjunct Associate Professor Eric Atmore of the Department of Social Development, who has just been re-elected as chairperson of NECDA, which he founded in 2005. For one, the quality of the services provided by ECD centres is not standardised.
Which is where the Alliance comes in. The network's 90 non-profit early-childhood development organisations aims to advocate and lobby for the child's right to quality early-childhood development opportunities prior to entering formal schooling. It also provides essential services, like training, programme development, materials and the like, to ECD centres.
NECDA is the largest association of early-childhood development organisations in Africa, and serves as the South African representative on the Global Alliance for the Education of Young Children.
Through its collaborations the Alliance is influential in setting the ECD agenda in South Africa, says Atmore. And NECDA has helped its members to sustain their organisations in these tough economic times.
"There are more than enough services providers," says Atmore, "but they all live a hand-to-mouth, typical non-profit existence because none of them receive government funding."
Atmore's served as NECDA's chairperson since its inception, but is not balking at the challenge of another term.
"Being chairperson of the Alliance is a huge responsibility," he says, "but it's also a huge opportunity to make a significant difference in the lives of young children."
---
This work is licensed under a Creative Commons Attribution-NoDerivatives 4.0 International License.
Please view the republishing articles page for more information.
---