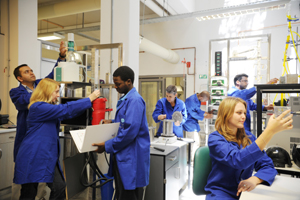 Today, Friday 5 November, the Mail & Guardian carries an eight-page UCT research supplement, Research at UCT, initiated by deputy vice-chancellor responsible for research, Professor Danie Visser. Its intention is to market research at UCT to the public, particularly the work that affects society. The campaign also includes news radio advertisements featuring four UCT professors talking about their research fields.
The vice-chancellor Dr Max Price wrote the foreword and Visser penned an op-ed piece in the supplement. Price wrote about the importance of both applied and pure research to knowledge production and growth in SA.
Explaining the tension between applied and 'blue-sky' research, he argued that both are integral to the country's research endeavour.
"However, the polarisation is less dichotomous than many assume," he wrote. "Rather, there is a continuum of research from applied to pure; and very little research can in fact be placed at only one point on this continuum. Many research projects start off on the more curiosity-driven end of the spectrum and evolve into applied work. Others start off trying to address concrete problems such as controlling an infectious disease, and end up having to do basic laboratory work sequencing the genome of a microbe.
"I would estimate that over 90% of research at UCT has direct or indirect relevance to real-world problems (and in most cases, also South African problems). Ideally, our research agenda should be without restriction - because the consequences of today's research on future discoveries cannot be predicted."
In turn, Visser explained why it is vital to create space for ideas that change the world, many of these born of research conducted at tertiary institutions.
"Universities are complex institutions that do many different things, but in order to do one of the most important things that they are good at - namely, to renew the world through fresh ideas - the academics that populate them need four things: time; resources; diversity; and freedom...
" ...academics need the space to think. This means that a modern university, even though it cannot avoid measuring performance, must be sensible. It must allow enough time for people to tackle big projects - the big book, or the research question that takes years to answer. And to do so, it must look at the total academic job and craft it in such a way that it does not crush the delight of discovery, of invention, and of meaningful thought. Only then can we expect our universities to astonish us with their ideas."
Download both Price and Visser's opinion pieces.
---
This work is licensed under a Creative Commons Attribution-NoDerivatives 4.0 International License.
Please view the republishing articles page for more information.
---