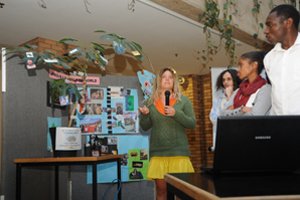 Global minded: Isabelle Giddy presents at a ceremony to celebrate the UCT Global Citizenship: Leading for Social Justice programme.
In words and in action, students expressed how the UCT Global Citizenship: Leading for Social Justice programme has broadened their knowledge and inspired them to address global issues.
At a function to mark the completion of the pilot phase of the programme on 18 October, students celebrated in words and songs.
The programme is run by the Centre for Higher Education Development, and provides students with an opportunity to engage with current issues and debates on global citizenship, leadership and social justice, and to reflect on community service experiences. The programme stems from the university's commitment to enhance graduate attributes by encouraging them to think critically about problems facing the country, the continent and the world, and to respond accordingly.
Over 100 students - more than double than initially envisaged - took up the programme, which was a combination of online and group work. Students, from a range of levels and across all faculties, registered for Part 1 (Global Debates, Local Voices) or Part 2 (Thinking about Volunteering) or both. Part 1 dealt with war and peace, climate change, debating development and Africa as a globalised world. Part 2 tackled self and service, paradigm and ethics, service in the context of inequality, development and service, and sustaining new insights. While not credit-bearing, the programme is recognised on students' academic transcripts as a UCT short course.
Students Vukile Ntozakhe and Tebogo Photoane said the programme has enhanced their understanding of the world, and the role they can play to improve things.
Deputy vice-chancellor Professor Crain Soudien said he was pleased about the impact the programme has had on students, and the enthusiasm students have shown to address global problems. The outcomes of the pilot programme will be considered in planning for next year.
---
This work is licensed under a Creative Commons Attribution-NoDerivatives 4.0 International License.
Please view the republishing articles page for more information.
---