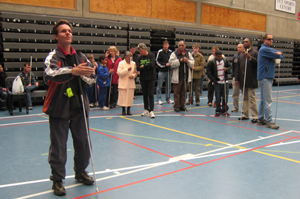 Sound off: Daniel Kish hosted a workshop to teach blind people to navigate using environmental cues.
World Access for the Blind president Daniel Kish visited UCT last week to host a workshop for blind children (some as young as 10 years old), blind adults, mobility instructors and social workers.
Kish became something of a celebrity in his field when he appeared on the Discovery Channel explaining his technique for enabling blind people to obtain an optimal amount of information from their environment, so they can move more freely and independently.
He teaches the use of an ultra-light cane combined with what he calls "human echolocation", the ability to use sound reflected from the environment to detect objects.
Twenty attendees practised locating obstacles by using various tongue clicks to produce echoes from objects in the environment. Kish, who has trained blind people all over the world, was delighted with the readiness with which his South African pupils attempted and mastered the clicks, which he said took non-South Africans ages to perfect.
The workshop was presented jointly by UCT's Disability Unit and the St Dunstan's Association for War-Blinded Veterans.
---
This work is licensed under a Creative Commons Attribution-NoDerivatives 4.0 International License.
Please view the republishing articles page for more information.
---