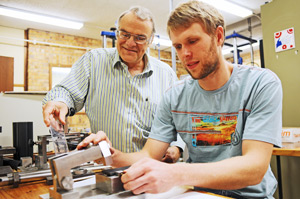 Top honour: Thorsten Becker (front), photographed with his supervisor and co-author Prof Bob Tait, won the Best Paper award at the recent International Youth Nuclear Conference 2010.
Given the increased national and international interest in nuclear power generation and talk of a 'new build' nuclear power station in South Africa in the near future, it was good news for UCT when PhD student Thorsten Becker won the Best Paper prize at the recent International Youth Nuclear Congress (IYNC).
The IYNC attracted over three hundred delegates from 32 countries. Becker's paper was titled Damage, crack growth and fracture characteristics of nuclear grade graphite using the double torsion technique. His supervisor and co-author is Professor Bob Tait of UCT's Department of Mechanical Engineering.
Becker is spending a year at the University of Manchester, one of the leading universities in nuclear materials, with another co-author, Professor James Marrow. Becker's work there focuses on the part of his PhD that deals with image correlation of cracking and damage development with fracture mechanics. He has returned to UCT to write up his PhD.
Tait says that for the first time research has provided a link between crack growth rate, damage development and fracture mechanics behaviour in nuclear graphite on one hand, and the stress fields and unique structural geometry that is experienced on the other. This understanding facilitates the prediction of service life and performance.
"Such an approach enhances structural integrity and safety, and makes long-term behaviour more predictable in such nuclear applications. The model has the potential to extend to other brittle particulate composites."
---
This work is licensed under a Creative Commons Attribution-NoDerivatives 4.0 International License.
Please view the republishing articles page for more information.
---