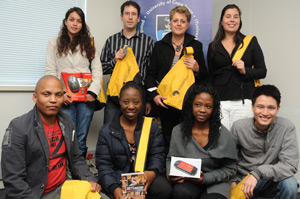 Live and learn: (Front, from left) Oscar Noels, Linet Huchu, Thembekile Kamanga and Richard Cheng, and (back, from left) Kyla McNulty, Andrew Rand, Marilyn Wilford and Terri Landbrooke were some of the lucky winners in the Respect Copyright Quiz.
Information and Communication Technology Services (ICTS) hosted a prize-giving on 20 September for winners of the fun but educational UCT Respect Copyright quiz.
A number of people walked home with nifty gadgets such as a PlayStation PSP, computer games, movies, backup system recovery desktop software, memory sticks, pokens, iPods and shoulder bags. But more importantly, many more people are now better informed about the huge financial and legal risks of infringing copyright laws.
It emerged last year that there is widespread peer-to-peer file sharing of copyrighted materials on the UCT network. This exposes both UCT and those involved to serious legal repercussions, including the risk of prosecution for breach of copyright. Such file-sharing also places a load on the network, which slows down legitimate network activity and consumes bandwidth.
In response, UCT's Risk Management Committee initiated an awareness campaign, which was managed by ICTS. The campaign involved, among other things, registering UCT with the Internet Service Providers' Association, putting up educational posters, creating informational web pages and hosting this quiz.
Steffne Hughes, ICTS' communication and training team leader, said the competition drew good representation from staff and students, and many said they learnt a lot about copyright.
"That was the main aim of the initiative: to expose people to information about copyright, and to help them make some personal decisions about how they interact with and use copyrighted items such as music, movies, images, and so on," Hughes added.
---
This work is licensed under a Creative Commons Attribution-NoDerivatives 4.0 International License.
Please view the republishing articles page for more information.
---