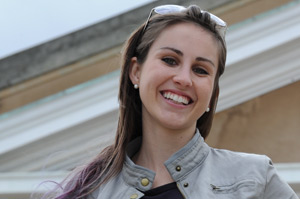 Unity is strength: Kathleen Taylor says working together will be key to the SRC's success.
The three top spots on the new Students' Representative Council for 2010/2011 have gone to women. Monday Paper met SRC president Amanda Ngwenya, and her two deputies: Kathleen Taylor and Jessica Price.
Kathleen Taylor has a strong voice, strong views and a strong personality.
That much was clear when she managed to win the most votes in the 2010/2011 Students' Representative Council elections - as an independent candidate with no political structures to back her, to boot. She was encouraged to stand for the SRC and assisted in her campaign by her sibling, Anton Taylor, also a UCT student, who served in the 2008/2009 SRC.
Now she has been named as the SRC's vice-president: internal, and will be responsible for internal discipline and work with the development agencies, a function she's excited about but not what she had in mind.
She had promised students during her campaign that she will push for supplementary examinations to be held in July, for online registration (which is being implemented), and to rotate entertainment around all campuses. The seat-allocation meeting decided otherwise.
Taylor has put her frustrations with that meeting behind her, has re-evaluated her priorities and is eager to deliver the best services to students.
As one of the only four independent candidates in the 15-member committee, she hopes that policies will not be decided by voting, but will be reached through compromise and consensus.
"It will be a slow, tedious process, but it can be done and it will be worth it if we have an SRC that works and that properly represents all students," she said.
A co-operative SRC, Taylor added, can get a lot more done. So she hopes her team will be accessible and visible on campus, something she understands will be difficult to achieve.
---
This work is licensed under a Creative Commons Attribution-NoDerivatives 4.0 International License.
Please view the republishing articles page for more information.
---