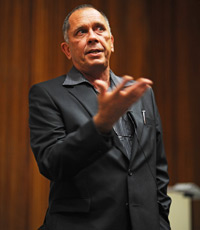 Feathered future: Prof Phil Hockey's Distinguished Alumni Lecture explored the future for birds in a changing global environment.
"Everyone talks about dinosaurs being extinct; but of course they aren't, because you all have dinosaurs in your gardens."
So opened Professor Phil Hockey's Distinguished Alumni Lecture on 23 September. Titled Is a Changing World all Bad for Birds?, Hockey's lecture examined the changing habits and behaviours of birds, their links to climate change and their possible futures.
Hockey notes that birds are modern-day dinosaurs which have already survived a major extinction event 65 million years ago, namely the Cretaceous-Tertiary extinction event (aka the K-T event), which killed off all non-flying dinosaurs.
"We now live on what has been called the Goldilocks planet, because it's not too hot and not too cold and can therefore support what we perceive as life," said Hockey. "But how well are birds going to do as we approach the next mass extinction event?"
Hockey explains that we are entering a new geological epoch - and approaching the sixth mass extinction - called the Anthropacy, so named because it is the first epoch that will be driven, directly or indirectly, by the activities of a single species, namely us humans.
"We are starting to see around us the evidence of an approaching mass extinction event," said Hockey.
But there will be winners as well as losers, Hockey predicts, and the winners will be adaptable, generalist species - that is, species able to thrive in a wide variety of environmental conditions and able to make use of a variety of different resources. The losers will be the specialists - species suited to a narrow range of environmental conditions or having a limited diet.
"Birds are responding to both climate and land use changes," observes Hockey. "There is evidence that our current network of protected areas might not work in the future, because we are changing the mosaic in which these birds live.
"So the real challenge is identifying where these future climate refugia might exist."
---
This work is licensed under a Creative Commons Attribution-NoDerivatives 4.0 International License.
Please view the republishing articles page for more information.
---