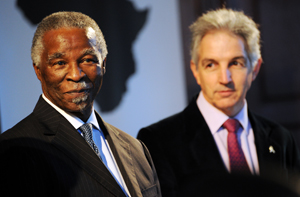 Rebuild Carthage: Speaking to the African Student Leaders' Summit, Thabo Mbeki, here with vice-chancellor Dr Max Price, again urged students to play their role in the renaissance of Africa.
Hailed with a standing ovation in UCT's Jameson Hall, former president Thabo Mbeki bookended his 6 September address to the African Student Leaders' Summit, now on in Cape Town with a cautionary tale - that of the destruction of the powerful Carthage, a series of cities in Tunisia, by the Roman Empire in 146 BC.
Quoting a speech by his predecessor, Nelson Mandela, when he addressed the first Assembly of the Organisation of African Unity in Tunisia in 1994, Mbeki spoke of how the sacking of Carthage marked the end of African independence. Now, more than two millennia later, the challenge is to restore Africa to its former glory, said Mbeki.
"I dare say that as our student leaders you should take up the call that Nelson Mandela made, and therefore say to yourselves, setting this as your task - Carthage must be rebuilt."
There is plenty for students to do then, suggested Mbeki. As an addition to Africa's intelligentsia, students must pose questions about their society, and what should be done to improve them, he stated.
But he urged them to focus on the concerns of higher education, to the renewal of the African university, and the expansion and accumulation of the continent's intellectual capital. African universities are under siege, he suggested, with poor infrastructure and libraries, and a shortage of staff counting among its shortcomings.
Even more troubling is the brain drain from Africa, Mbeki noted. He cited case studies from Ghana (which according to one estimate had lost more than 42% of its educated labour force by 2000), South Africa, Zambia and Malawi. That means billions of rands lost in the investment of professionals.
But there are other concerns as well, notably on how African studies is taught in a post-apartheid academy, and how students and academics relate to the concerns of the masses, he added. But if universities lost its privileged place as a pampered home to a young elite, if offered new opportunities.
"Thus to position the African university as an agent of change will require that you, our student leaders, take it as your special responsibility to engage in struggle for the renewal of the African university, the sole institution which will provide Africa with the critically important intellectual capital without which it cannot achieve its renaissance."
Download podcast of the lecture.
Download copy of the lecture.
---
This work is licensed under a Creative Commons Attribution-NoDerivatives 4.0 International License.
Please view the republishing articles page for more information.
---