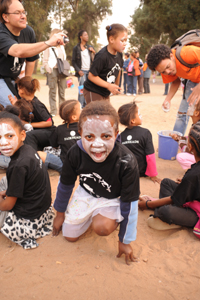 The face of change: The Clanwilliam Arts Development Project has won a BASA Award for youth development.
The UCT Fairheads Clanwilliam Arts Project took top honours for youth development at the 13th Annual Business Day/Business and Arts South Africa (BASA) Awards, announced in Johannesburg on 31 August.
The project, which was also nominated in the sustainable partnership category, is a collaboration between UCT's Department of Drama and Michaelis School of Fine Art, as well Magnet Theatre and Jazzart, with sponsorship from Fairheads International Trust for the past 10 years. It started off in the mid-1990s as the Living Landscapes Project under the care of Professor Pippa Skotnes of the School of Fine Art and Professor John Parkington of the Department of Archaeology. At annual workshops, they taught about 100 learners from Clanwilliam about the rich heritage of the area.
As interest and participation grew, Skotnes recruited colleague Associate Professor Mark Fleishman of the Department of Drama to add a performance element to the project. Today, Fleishman and a small army of students and performers run weeklong workshops to prepare hundreds of children, aged between five and 18, for the culminating events - a lantern parade through Clanwilliam, and a performance of /Xam (San) stories first told to the 19th century linguist Wilhelm Bleek and his sister-in-law Lucy Lloyd. (This year, the events take place on Sunday, 12 September.)
Also lending a hand in these preparations is offshoot Comnet, a permanent drama group made up of high school learners from Clanwilliam whose interest was sparked by Fleishman's workshops. Two of the original 10 Comnet members have since the group's founding been accepted onto the training programme at Jazzart in Cape Town, and one of the leaders of Comnet receives a trainee bursary from Magnet Theatre to co-ordinate the group.
"For all the other things the project is, it has also become an opportunity for our students, both drama and fine art, to see at first hand the wonderful, transforming, imaginative power of creativity," says Skotnes.
The BASA accolade, she adds, is just rewards for Fairheads' continued investment, even after the 2009 death of chairperson Peter Fairhead, who spearheaded the trust's support for the Clanwilliam project.
"The award is great - it acknowledges our sponsors who have been committed to this project from the very beginning and without whom we would not have been able to take it this far."
---
This work is licensed under a Creative Commons Attribution-NoDerivatives 4.0 International License.
Please view the republishing articles page for more information.
---