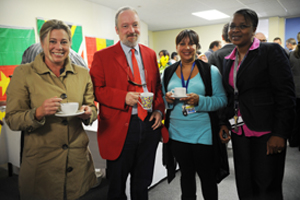 Don dean: Attending the dean's welcome function were (from left) Alison Meadows, Prof Don Ross, Janine Osman and Nonnie Falala.
Professor Don Ross was welcomed into the hot seat of Dean of Commerce at a function on 1 June.
"The faculty is a superb academic unit that does a remarkable job of delivering high-quality education to a huge annual cohort of students," said Ross at the welcome.
"Having lectured for years in Canada, and now more recently in the US, I can say with no element of exaggeration that we're at least four times as productive in quality and quantity of teaching output."
"I'm privileged to be asked to co-ordinate a fine team. There are things we can do, especially in the areas of infrastructure development and incentives for research and transformation, that will substantially improve our situation and make most people happier. I much anticipate rolling up my sleeves and getting to work on these goals."
Ross also paid tribute to the two acting deans, Professor John Simpson and Professor Mike Wormald, who formally held the reins. "I'm about to benefit disproportionately from their heroic work ethics."
Ross's main research interests are in the game-theoretic foundations of human sociality; the picoeconomics and neuroeconomics of impulsive consumption, especially addiction; mathematical frameworks for unifying the behavioural sciences with one another and with physics; and trade and industry policy in Africa.
He is the author of numerous journal articles and author or editor of 12 books. He was the director of the Southern African Bitumen Association Infrastructure Development Assessment Project, and is the director of the Research for the National Responsible Gambling Programme of South Africa.
---
This work is licensed under a Creative Commons Attribution-NoDerivatives 4.0 International License.
Please view the republishing articles page for more information.
---