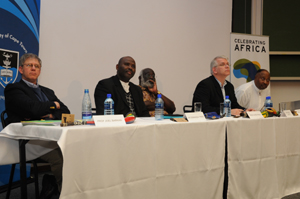 Democracy is the worst form of government - except for all the other forms.
So quipped Professor Robert Mattes, director of UCT's Democracy in Africa Research Unit at an Africa Day panel discussion titled The State of Democracy in Africa: Advance or Retreat? on 25 May.
Chaired by deputy vice-chancellor Professor Thandabantu Nhlapo, the Celebrating Africa week event also included political analyst Professor Joel Barkan of the University of Iowa in the US, Professor Kwesi Prah, director of the Centre for Advanced Studies of African Society, and Dr Somadoda Fikeni of the Walter Sisulu University.
The co-founder of the Afrobarometer, a regular survey of public opinion in 18 African countries, Mattes noted: "Africans won't tell you what they think - especially in non-democratic countries, where there is not enough of a culture of challenge."
Mattes described support for democracy in Africa as "thin - but wide". According to surveys, South Africans show surprisingly low support for democracy, with only about 50% believing that it is the best option.
Barkin argued that there is no single Africa, in terms of democracy. Rather, the continent is divisible into four groups covering an extremely wide spectrum of qualities of democracy.
A problem group was countries such as Zimbabwe, which have a system of democracy, but have little prospect of a change in power. This lack of movement, according to Barkin, is found across all forms of African democracies.
Fikeni addressed issues facing the continent in its second wave of democratisation after the fall of colonialism. Democracy in Africa, he argued, is "elusive in terms of how people understand it".
Speaking of South Africa's democracy with one overwhelmingly large party, Fikeni commented: "But who needs an official opposition when you provide your own?"
Prah examined the cultural issues surrounding democracy, noting that political concepts have been affected by fashionable ideas, such as socialism and postmodernism.
"Development is a cultural phenomenon, and at the centre of culture is language," said Prah.
"We are talkative animals - so without a handle on the central question of language, we're not going anywhere."
---
This work is licensed under a Creative Commons Attribution-NoDerivatives 4.0 International License.
Please view the republishing articles page for more information.
---