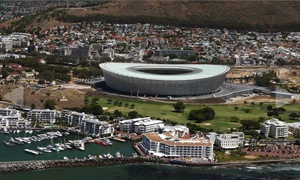 Now mere weeks away, the FIFA World Cup is expected to have a far-reaching impact on South Africa, including stimulating job creation, and increases in tourism and nation-building. But will these projections become a reality? And what impact will the World Cup have on human rights and governance structures?
This was the key question in a seminar held on 20 May on the aftermath of the World Cup for the country, and the footprint FIFA will leave in its wake.
Professor Richard Calland, director of UCT's Democratic Governance and Rights Unit (DGRU), stressed the enormity of the event that will be watched by about two-thirds of the world's population. "The World Cup is one of the only things that can stop people from fighting and fornicating for long enough to be peaceful for two hours - or two and a half, if there's extra time," he said.
DGRU research associate Chris Oxtoby examined the legal status of FIFA (aka the International Federation of Association Football), noting that it is neither a company nor a multinational organisation. Instead, it is a voluntary organisation, registered in terms of the Swiss civil code, which means that if their turnover exceeds a certain amount, it is required to be audited - although this process will remain private.
For this World Cup, FIFA operates through SAFA, the South African football governing body, and its Local Organising Committee (LOC). As the LOC is registered as a non-profit organisation, there are transparency and responsibility issues, said Oxtoby.
"You could sue FIFA; but if you won, the money would come out of the host country's pockets, not FIFA's."
Professor Ian Glenn, director of UCT's Centre for Film and Media Studies, said that FIFA is a product of major global trends that are much bigger than FIFA itself.
"There are draconian regulations preventing negative publicity about the World Cup, but this is a well-known phenomenon in sports journalism," he said. "FIFA extends the notion that sports journalism is a lifestyle or sunshine journalism."
Sophie Nakueira, PhD researcher at UCT's Centre for Criminology, said that mega-events such as the Olympic Games and the FIFA World Cup are funded mainly by the host country's tax-payers' money.
"Costs are usually underestimated, because bid committees want to present a winning bid that they can sell to a sometimes sceptical public."
Nakueira also noted that host countries must meet FIFA's conditions to host the event. These include exemption from certain duties and taxes, and priority treatment of permit and visa applications.
To meet these requirements, the South African government had to pass new legislation regarding safety and security, and amend some laws to guarantee FIFA's property rights and prevent ambush marketing.
Host cities also had to agree to pass bylaws in compliance with FIFA's city beautification requirements, as well as observing FIFA's guidelines regarding moral behaviour in public spaces, such as the prohibition of swimming, begging, camping and residing - and even swearing - in public spaces.
"South Africa has an obligation to adhere to human rights standards," said Nakueira. "However, these new laws can impact on South African civil liberties and human rights."
Nakueira concluded: "Given the way FIFA governs, and considering South Africa's obligation to FIFA, will the country be able to honour its obligation to its people during the World Cup? That's the legacy that remains to be seen."
---
This work is licensed under a Creative Commons Attribution-NoDerivatives 4.0 International License.
Please view the republishing articles page for more information.
---