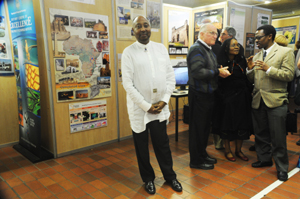 Lens on Africa: DVC Prof Thandabantu Nhlapo at the UCT Connections exhibition.
Support from the Vice-Chancellor's Strategic Fund will underpin strategic academic and research exchanges with African universities, said deputy vice-chancellor Professor Thandabantu Nhlapo at the culmination of the Celebrating Africa programme of lectures, exhibitions and seminars, held from 18 to 29 May in partnership with Iziko Museums of Cape Town.
At the heart of the programme was Africa Day on 25 May. And while the campus presented a full suite of events, so too did Iziko, having enlisted UCT researchers such as Associate Professor Fritha Langerman and Professor Anusuya Chinsamy-Turan.
On International Museum Day, 18 May, Langerman delivered a talk on display and perception in museums of natural history. Chinsamy-Turan opened the African Dinosaur Exhibition on 29 May.
But four major events at UCT on Africa Day underscored what the university means by internationalisation with an Afropolitan niche, Nhlapo said.
"Afropolitanism is about UCT taking advantage of its geographical location to excel in Africa-generated knowledge, a process that works better in collaboration with others who share the same passion. Nowhere was this more evident than during the lunchtime panel discussion, where several speakers examined the state of democracy in Africa through different lenses. At the Vice-Chancellor's Open Lecture the personable Dr Marta Lahr took us through humankind's exciting history. All this happened against a backdrop of a wide-ranging exhibition of the work of UCT scholars across African borders."
Nhlapo said he saw his role in promoting Afropolitanism as lying not so much in the signing of memoranda of understanding, but in helping those at UCT who have already forged African links to improve, deepen and expand these collaborations.
"An audit of existing links and a reliable database is an obvious way to go. So was a strong showing on Africa Day, unapologetically trumpeting our Africa-facing intentions with an expanded range of events and wider publicity.
"I believe we achieved this in 2010, with the collaboration with Iziko Museums of Cape Town, another symbolic link that widens our repertoire."
He added: "More difficult will be putting in place measures that will generate movement in those aspects of Afropolitanism that relate to teaching and learning. The buy-ins of deans, heads of department and academics will be crucial here.
"It is hoped that when the traffic between UCT and other continental institutions is fully on the go, there will be no shortage of continental expertise to strengthen our own offering. The vice-chancellor, Dr Max Price, has given the lead here by putting up a strategic fund to support such exchanges."
(See stories under the Category Celebrating Africa for coverage of Africa Day events.)
---
This work is licensed under a Creative Commons Attribution-NoDerivatives 4.0 International License.
Please view the republishing articles page for more information.
---