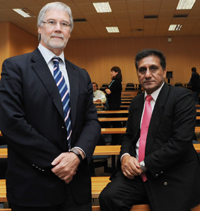 Family issues: Human beings are all related, but react differently to drugs, said Prof Raj Ramesar, seen here with DVC Prof Danie Visser.
Genetically speaking, all human beings on the planet are 99% related to one another, but all have different predispositions to disease, and different groups of people may respond differently to therapeutic drugs.
This was emphasised by Professor Raj Ramesar, head of the Division of Human Genetics at UCT, at a public lecture, Exploring Ancient History Using DNA, recently. The lecture forms part of Celebrating Africa, a partnership between UCT and Iziko Museum.
Despite humans' close relations, there are genetically remarkable differences between, say, Chinese and Japanese, the Caucasians and the indigenous African populations, even though all human beings originated from Central or East Africa. Despite its importance in health care, there is little data available on how differently indigenous Africans biologically process drugs. This is particularly relevant when one takes into account that most clinically applicable drugs have been designed and trialled elsewhere, and in other populations.
Also relevant to how well people respond to drugs, is the understanding that the primary cause of the disease may be different between different individuals, families and ethnic lineages.
"This is a good reason why we should be doing research to understand why disorders we are predisposed to are different from disorders [people are] predisposed to elsewhere in the world," Ramesar explained.
A Southern African study is being conducted in which genetic analysis is being done on individuals from Xhosas, Zulus, Sotho/Tswana, as well as San and Herero populations from Namibia. The idea is to understand the phylogenies [evolutionary line] and the genomic structures of these indigenous populations.
"This attempt to understand the genetic structure of our populations is extremely important when we want to understand how these may differ between individuals affected with a disease, and those who are not."
Understandably, this will also be applicable in understanding response to drugs, or even in designing the next generation of drugs that are much more targeted to the disease mechanism, and also tuned to an individuals (drug) metabolic capacity, than those being used currently.
In the study, researchers will look at the burden of disease in Africa, the drugs used to treat these diseases, and the genetic variations known to do with drug metabolism.
"Knowing what the variations are in those genes, it makes sense why in this population group there is a slight difference on how individuals react differently from certain drugs than in other populations."
---
This work is licensed under a Creative Commons Attribution-NoDerivatives 4.0 International License.
Please view the republishing articles page for more information.
---