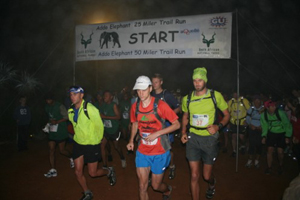 Off he goes: William Robinson (in red) leads the pack at the start of the 50-mile race in the Addo Elephant Trail Runs.
William Robinson once again proved his long-winded mettle when he clinched top spots in two endurance events - well, technically three.
Firstly, his times for the Cape Argus Pick 'n Pay Cycle Tour on 14 March (3:03:33) and the Two Oceans Ultra Marathon on 23 April (3:56:48) added up to the best combined time (7:00:21) over the two races, about 17 minutes better than his closest rival. This earned him his second Cape Argus Pick 'n Pay Cycle Tour & Old Mutual Two Oceans Floating Trophy, following on his first such win in 2008.
Robinson's overall time is about 27 minutes slower than that of his 2008 races, but the widely reported windy conditions on the day of the Argus - a race he hadn't actually prepared for, but which "wasn't a problem", he says - is largely to blame for that.
And just a week after the 56km Two Oceans, Robinson headed for the Addo Elephant Park in the Eastern Cape, where he won the 50-mile race in the 6th South African Addo Elephant Trail Runs on 1 May. He took the lead at about the 20-mile mark, and would finish in a time of 8:24:00, 12 minutes ahead of the next finisher. (A field of 48 started the race.)
But there was a surprise in store for the typically unflappable Robinson at the start of the event. The race wouldn't be exactly 50 miles (80km), runners were informed. "I found out at registration that the organisers had extended the race by 4km," he noted in a report. "At least they added the distance on at the beginning and not at the end! So that made the race 84 km."
Robinson finished second in last year's Addo 100 miler, which wasn't staged in 2010.
He is currently a doctoral student with the Renewable Marine Resources Assessment and Management Group in the Department of Mathematics and Applied Mathematics.
---
This work is licensed under a Creative Commons Attribution-NoDerivatives 4.0 International License.
Please view the republishing articles page for more information.
---