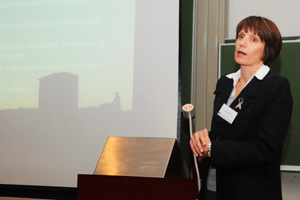 Good will: Assoc Prof Ulrike Rivett speaks of her group's part in a water-testing project.
The Faculty of Engineering & the Built Environment (EBE) has pioneered a programme to promote research and knowledge creation that will make a real difference to South Africa's poor and vulnerable communities.
The EBE Initiative for Public Good was launched on 21 April and outlined bold plans for the faculty to produce new research that will contribute to the developmental needs of the country. Speaking at the launch, dean, Professor Francis Petersen, said that the initiative is responding to growing calls to put innovation to work for social good, alongside economic imperatives.
"This initiative is designed to co-ordinate and promote research activities within the faculty that can alleviate South Africa's myriad social challenges," said Petersen. "Our mandate as a university is to produce new knowledge, and I believe that UCT is very good at that.
"But to what extent do we as a university and as a faculty contribute to improving the quality of life of the poor in this country?" he asked.
Audience members were treated to three presentations showcasing the good work that EBE is already doing in this arena. Chief amongst these is a project led by Associate Professor Ulrike Rivett of the Department of Civil Engineering. Her team has developed an innovative water-quality testing system that is being used in rural communities across the country. The project uses a simple water testing kit and a cellphone software package - developed by Rivett and her team - to enable ordinary community members to relay crucial information about water safety back to their municipal managers.
Gordon Inggs also described the work of the UCT chapter of Engineers Without Borders (EWB), an organisation of socially-conscious students who are putting their learning into practice with high-impact projects in Cape Town's impoverished communities.
In turn, Associate Professor Harro von Blottnitz of the Department of Chemical Engineering illustrated the benefits of faculty collaboration in a project that is looking at informal township catering and its associated health hazards. Von Blottnitz's project is drawing on the resources and knowledge of several faculties and research groups to better understand these health risks and develop viable alternatives for the township catering sector.
The launch was further bolstered by Petersen's announcement that the Initiative will be partnering with the Development Bank of Southern Africa and other institutions to facilitate the implementation of research and innovation for development.
Deputy vice-chancellor Professor Danie Visser lauded the faculty's efforts to produce innovation that gets to work for social good, saying the faculty was "setting an example for the entire university".
---
This work is licensed under a Creative Commons Attribution-NoDerivatives 4.0 International License.
Please view the republishing articles page for more information.
---