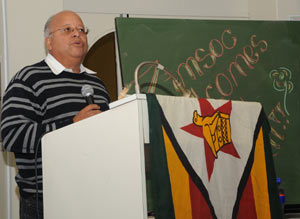 Looking back: Professor Brian Ratopoulos spoke at the UCT Zimbabwe Student Society's independence celebration.
UCT's Zimbabwe Student Society forwent the traditional party and braai celebrations for the 30th anniversary of their country's independence on 18 April, and recognised the milestone in a more sober manner at an event held on 15 April. The society hosted a talk, titled A Look Back on the Last 30 Years of Zimbabwe, in which guest speakers shared their views on Zimbabwe's gains and losses in the past three decades of independence.
The speakers were Professor Brian Raftopoulos, director of Research and Advocacy in the Solidarity Peace Trust, an NGO dealing with human rights issues in Zimbabwe; Zweli Jacobs, lecturer in politics at UCT; and Braam Hanekom, chairperson of the People Against Suffering, Suppression, Oppression and Poverty (PASSOP), a community-based organisation which fights for refugee rights in South Africa.
Raftopoulos, in outlining the political development of Zimbabwean independence, noted that born-free students might not remember the "exhilaration" when Zimbabwe won its freedom.
"We have a problem of transition between an opposition party that has won an election and a ruling party that refuses to recognise this transition," he said.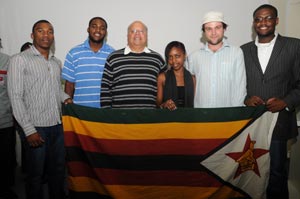 Raftopoulos analysed possibilities for Zimbabwe's future, such as the opposition Movement for Democratic Change (MDC) pulling out of the Global Political Agreement to delegitimise it, a quick election, or a more extended period of power sharing - which he concluded was the most likely scenario.
"It's very difficult to remove a liberation movement from power," he said. "It usually takes about 20 years for its legitimacy to start waning, as we also see in South Africa.
"But liberation movements can't run their countries only on the legacy of the past. They have to find ways to become modern political parties which allow for the possibility of defeat."
In the picture above are, from left, W.B Chirombo (Social Development Officer; ZimSoc) W. Maraire (Secretary General; ZimSoc) Prof Brian Raftopoulos (Speaker) T. Chingore (Treasurer; ZimSoc), Braam Hanekom, and T.Tevera (President; ZimSoc).
Download podcast of the address.
---
This work is licensed under a Creative Commons Attribution-NoDerivatives 4.0 International License.
Please view the republishing articles page for more information.
---