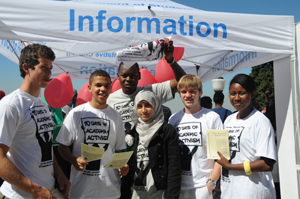 SRC members Erik de Ridder, Sizwe Mpofu-Walsh, Michael Mudau (back) Sumaya Hendricks, Richard McLaverty and Michell Mpike hosted a stall on Jammie Plaza informing students about their Academic Awareness Campaign.
The Students' Representative Council (SRC) has been busy on campus running the Academic Awareness Campaign to highlight academic exclusion, and to motivate students to perform better in their studies.
Called 10 Days of Academic Activism, the campaign, which runs from 6 to 15 April, and is supported by the Career Development Programme (CDP), also aims to create awareness about the many support services that UCT offers to students. These include the CDP, Student Wellness Service, student and careers advisors, and the Writing Centre.
A stall was set up on Jameson Plaza on 8 April to promote the campaign, and to provide students with the necessary information about the issues that the SRC needs to address.
Other events during the campaign included career awareness talks, getting geared up for exams, and a public speaking competition.
Sumaya Hendricks, the SRC's chair of academics, said that not enough is being done to provide academic and non-academic support for students, which often results in academic exclusion. Correct figures on exclusion rates are still being collected, but Hendricks said indications are that the problem is prevalent among students from disadvantaged backgrounds. This is adversely affecting the university's goal to increase the number of students from disadvantaged communities.
Hendricks said they also want to motivate students to always keep the reasons they are studying in mind.
"It's easy to forget why we are here, so let's take account of ourselves and give our books top priority. If you know why you are here, that you maybe want to be a CEO or an economic analyst, always keep that in mind and that will surely motivate you to study even harder," she explained.
---
This work is licensed under a Creative Commons Attribution-NoDerivatives 4.0 International License.
Please view the republishing articles page for more information.
---