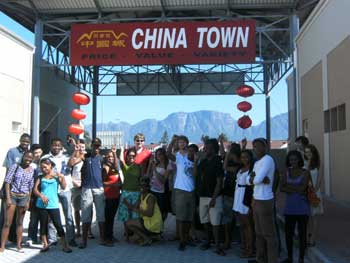 Going shopping: InvestSoc students hit China Mart.
Armin Diemer obviously took the lessons he picked up on the bidorbuy Crazy Wednesday Auctions Challenge to heart, turning a handsome 60% profit - or R179.30 - in the event, co-hosted by UCT's Investment Society (InvestSoc).
The competition, part of the student society's MyBusiness Entrepreneurship Development Programme, aimed to provide members with a crash course in entrepreneurship, plus the opportunity to earn some spare cash and a princely prize (more on that later) through a collaboration with online 'marketplace' bidorbuy.co.za and wireless hotspot innovators Skyrove.
"We felt that there is a gap in the kinds of programmes we were offering, and that we could really help students who are interested in entrepreneurship but didn't know where to start," explains Chris Speller, who runs the MyBusiness programme.
The goal was not to just simply offer students an academic command of entrepreneurship - through a procession of speakers and mentors - but also some coalface experience.
An opportunity to do the latter fell in their laps when bidorbuy.co.za approached InvestSoc with an offer to run an event on their popular online shopping and auction site. (So sparing students the high overheads of setting up their own digital shops.)
First off, though, InvestSoc hosted a seminar where the likes of 'start-up evangelist' Sheraan Amod and speakers from HBD Venture Capital introduced students to the essentials of venture capital and starting up a business.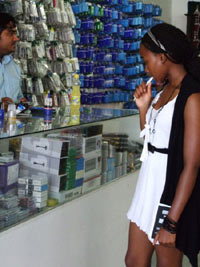 Bidorbuy.co.za then gave each student a R300 loan with which to buy goods of their choice, after which they would auction it on the site's weekly Crazy Wednesday Auctions. (A tricky proposition as all items start at R1, and there's no reserve price). Speller took the participants to Tokai's China Mart for their R300 shopping spree, students picking up everything from artworks and braai kits to coffee sets and an assortment of knickknacks.
After some training and set-up help from bidorbuy.co.za, the students went live on 9 and 10 March.
The secret to online success, they quickly found, was in the marketing of their products, reports Speller. "A lot of guys learned that a big part of the trick is in your description - you've got to think about what you've bought and why you think it's a good product."
Diemer was the quickest study, earning himself that R179.30 in profits and - even better - the first prize of a Samsung N130 Netbook and a KickbackDSL subscription for one year's free internet with Skyrove (and the chance to make money off anyone using his hotspot).
Inspired by the success of the venture, InvestSoc is now looking into further initiatives for 2010. Just like good entrepreneurs do.
---
This work is licensed under a Creative Commons Attribution-NoDerivatives 4.0 International License.
Please view the republishing articles page for more information.
---