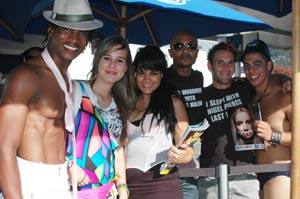 Street smart: (From left) Raz Gwanzura, Chanel Cusens, Anastasia Katts, DJ Nigel Pierce, 'The Knob', and Jayme Marinus selling Sax Appeal with Goodhope FM.
UCT students beat the early bird and were out on the streets as early as 05h00 on 4 February, dressed as outrageously as possible to flog the latest issue of SAX Appeal to amused motorists.
It was all to benefit RAG's primary beneficiary, SHAWCO, and their health and education support in many of the city's marginalised communities.
Remembering the controversy that dogged last year's edition - it was pulled from Pick 'n Pay shelves and featured on M-Net's Carte Blanche because of "gratuitously offensive" material directed at Christians - this year's issue has been looked over by an editorial advisory committee, set up to review the publication.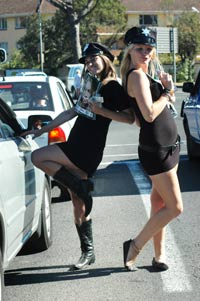 Featuring a photograph of a gagged student on the cover, the 2010 theme is The SAX Offender, and students dressed appropriately (or is that inappropriately?) for the occasion.
Benefactors came in many forms: as well as support from regular media sponsor Good Hope FM, who helped create a buzz around the event, the long list of sponsors include companies as diverse as Pick 'n Pay and Elite Taxis.
"It feels good to be part of this project, the vibe is great," said Mark Jennings, a business science student who enjoys selling the magazine enough to be doing it for the fourth consecutive year. "But you have to be enthusiastic to get good response."
---
This work is licensed under a Creative Commons Attribution-NoDerivatives 4.0 International License.
Please view the republishing articles page for more information.
---