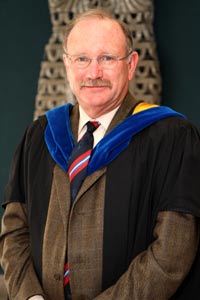 Now gearing up for the world of private enterprise, Kit Vaughan, UCT's Hyman Goldberg Professor of Biomedical Engineering since 1996, recently delivered his valedictory lecture at the Faculty of Health Sciences.
Vaughan broke his lecture, titled The Pleasures of a Life in Academe, into eight "vignettes", starting in 1977. That's the year he published his first academic article, A Biomechanical Model of a Sprinter in the Journal of Human Movement Studies, while working on his PhD at the University of Iowa in the US.
The next stops in Vaughan's narrative were his stint as postgraduate supervisor at the University of Virginia (1989); his first grant, a princely US$132 000 from the National Institutes of Health (1992); his return to South Africa in 1995 - his family living off their savings and American credit cards - and landing the Hyman Goldberg Chair at UCT in the fledgling field of medical imaging; establishing a medical-imaging research group to continue the work of his muse, Nobel laureate Allan Cormack (2000); his sabbatical as a Ernest Walton Fellow in Ireland, which he'd recounted in a paper, A Year in the Land of Saints and Scholars (2003); the launch of his book, a four-year labour of love titled Imagining the Elephant: A biography of Allan MacLeod Cormack (the title is inspired by the story of six blind men trying to identify an elephant by touch alone and coming up with six very different answers), work that involved fact-finding missions to England, Scotland and the US (2008); and winning the rights to host, in Cape Town, the 22nd congress of the International Society of Biomechanics (2009).
Vaughan, aged 56, is now looking forward to the next vignette in his professional career that will follow his retirement from UCT: that of business man. "I have realised that I am at heart an entrepreneur, and that I'm still young enough and have sufficient energy to pursue another career," he said.
In partnership with UCT and with funding from the Industrial Development Corporation, Vaughan has launched a spin-off company that will market low-dose x-ray technology for the early detection of breast cancer. There is clear evidence from other countries that screening programmes can "dramatically" curb the disease"s mortality rates, Vaughan said.
"I am more convinced than ever that we have the technology with the potential to save many lives, both here in South Africa and elsewhere in the world."
---
This work is licensed under a Creative Commons Attribution-NoDerivatives 4.0 International License.
Please view the republishing articles page for more information.
---