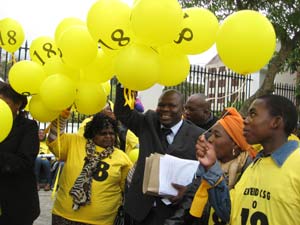 Up in the air: Community leader Mama Darlina, Vincent Magagula of the Portfolio Committee on Social Development, and mother and son Florence and Sibusiso Mahlangu celebrate Cabinet's decision to extend the Child Support Grant.
Just as they were gearing up for the latest offensive in their eight-year campaign to have the Child Support Grant (CSG) extended to include children aged 15 to 17, a civil-society alliance - which includes UCT's Children's Institute - heard the glad tidings that the State had, finally, heeded their call.
Following an ordinary meeting on 21 October, Cabinet announced that the grant, which from 2009 covers needy children up to age 14 (it stops when the child turns 15), will be phased in over the next three years to incorporate children aged 15 to 17. (It would stop when the child turns 18.)
That's a further two million children, at some estimates, who would now receive a helping hand, in addition to the some nine million already eligible for the grant.
Not the kind to have the wind taken out of their sails, the lobbyists - made up of the Children's Institute, human-rights organisation Black Sash and the Alliance for Children's Entitlement to Social Security - turned the news into a celebration.
And just as they'd planned, alliance members marched to Parliament to hand over a report, titled When The Grant Stops, The Hope Stops, to Vincent Magagula, acting chairperson of the Portfolio Committee on Social Development. Based on testimonies from 187 caregivers, the report outlines the impact that the loss of the grant has on families and children who no longer received support.
It's a litany of hardships: households going hungry, pensioners using their meagre livelihoods to support older children, younger ones pulled out of crèche in a trade-off to support older siblings, and the loss of dignity and hope.
One telling difference the grant will make is keep those 15-, 16- and 17-year olds in school, says Paula Proudlock of the Children's Institute. It will pay for their trips to school, their uniforms, books and lunches, and also help them regain some measure of self-respect.
"If children don't have money for uniforms, outings, lunch or transport, their education suffers," explains Proudlock. "They can't get to school and so are frequently absent or are hungry so cannot concentrate. Without school uniforms, lunch boxes or money for school outings they feel different to the other children and under that kind of pressure, some children get depressed and stay at home."
The grant may now well change the tide for many of these children.
---
This work is licensed under a Creative Commons Attribution-NoDerivatives 4.0 International License.
Please view the republishing articles page for more information.
---