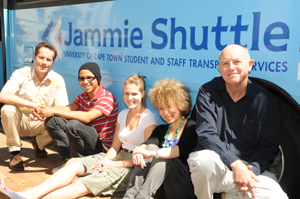 Winning design: New media students competed to create a new design for Jammie Shuttles. In picture are (from left) senior lecturer Johann van der Schijff, winning students Mbongeni Dlamini, Amber Caplan and Helena Steenveld, and part-time lecturer Peter Jenks.
Amber Caplan, a second-year new media student at UCT's Michaelis School of Fine Art, came up with the winning design in a competition that may be set to change the faces - and bodies - of the university's Jammie Shuttle buses.
As part of their Adobe Illustrator course, 15 fine art students were given a template of the blue Jammie Shuttle designs, and asked to create a new look for the buses, with the possibility of seeing their creation being implemented.
According to their brief, students were instructed "to produce an exterior design for the Jammie Shuttle that reflects UCT's brand appropriately, and in an innovative way, to reflect UCT's geographical position in South Africa".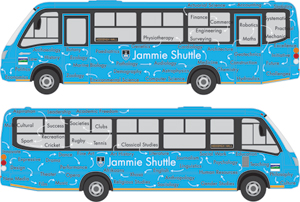 Students were also asked to reflect the vice-chancellor's proposed core strategic focus areas, namely promoting UCT as an Afropolitan university with a greater impact and engagement in research; enhancing UCT's social responsiveness to developmental challenges; and dedication to transformation towards non-racialism, inclusiveness and an African voice at the university.
"There was also a suggestion to emphasise the 2010 World Cup," says senior lecturer Johann van der Schijff. "But we preferred to take a longer-term view for the designs the students need to come up with, since the 2010 branding on its own has a relatively short shelf life."
Students were more than prepared for the task.
Says Van der Schijff: "Since they are also users of the Jammie Shuttle, it was interesting to note how some of the problems experienced in using the service are seen as design problems; for example, the signage in the front window displaying bus routes. Some of the ideas put forward addressed these issues."
The brief called for designs that were practical in execution and conformed to the technical requirements of bus branding.
---
This work is licensed under a Creative Commons Attribution-NoDerivatives 4.0 International License.
Please view the republishing articles page for more information.
---