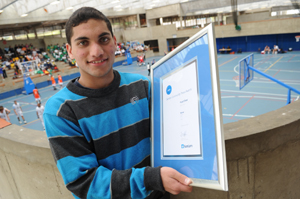 Write up there: UCT student Yusuf Omar has been named as the national community press sports journalist of the year.
Yusuf Omar's heart sank at the pre-awards discussion for the 19th Sanlam Awards for Community Press, the largest of South Africa's annual 32 press competitions, held in Johannesburg on 18 September.
There one of the judges was running through the judging criteria and nominees - no names mentioned - for the Sports Journalist of the Year Award, the category in which Omar had been nominated for his monthly column, Sports Talk, for Muslim Views. Yes, the quality of the writing was particularly high this year, especially among the shortlisted nominees (some with some serious pedigrees), announced the judge; but one writer in particular, he added, stood head and shoulders above everyone else.
That's when Omar's heart sank. Oh, please don't let me be that far behind the winner, he thought.
It turned out he wasn't. That selfsame evening, Omar, at just 20 the youngest nominee there, got the surprise of his life when he was called up to receive the top honour in the sports category.
It was pretty much a blur from then on, says Omar. (He almost left the stage without the winner's cheque.)
"He writes with a maturity well beyond his years and handles the tools of his trade - words - with skill and alacrity," noted one reporter afterwards.
But Omar almost didn't get the Sports Talk column, called in only as a stopgap after the regular columnist had left. Having penned one or two political pieces up to then, Omar's first contribution was a new take on the already exhaustively-covered Peter de Villiers 'sex tape' saga.
"While taking an analytical approach to the subject, his style of writing makes the column an entertaining read," says editor Farid Sayed, who had initially planned to use a couple of writers for the column. "That first article convinced us that Yusuf should be the regular Sports Talk columnist."
A keen sportsperson, fan and even coach, sports writing is not too much of a stretch for Omar. He admits to consuming sports pages - anything he can find online - by the dozen.
"It's a lot of fun writing about something you love," he says.
It also makes up a little for the Mellon Mays Undergraduate Fellowship, which grooms talented but disadvantaged young students for a possible career in academia, which he lost out on earlier this year because of passport delays. But Omar has other plans up his sleeve.
The sports beat is one he has no qualms in covering as long as people will read his stuff. But he admits that his heart lies elsewhere.
A third-year politics and media student with a bent for current affairs, he plans to sign up for honours studies in political communication at UCT next year.
Politics' gain may well be sports' loss.
---
This work is licensed under a Creative Commons Attribution-NoDerivatives 4.0 International License.
Please view the republishing articles page for more information.
---