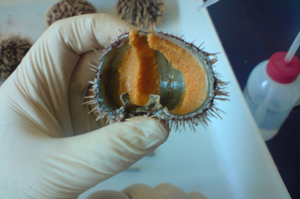 UCT marine biologist Mark Cyrus (bottom) took the best student presentation award at the 9th Conference of the Aquaculture Association of Southern Africa, held in Swakopmund, Namibia, from 8 to 13 September, for his work on the development of export-quality sea urchin gonads.
What was your presentation about?
The development of an artificial diet for the production of export quality gonads from the sea urchin Tripneustes gratilla based on the main findings of my MSc.
We created diets using artificial ingredients and natural seaweed to produce urchins with significantly larger gonads with a very good, marketable colour. In just 12 weeks, we increased gonad weight by 205%.
So why their gonads?
Their gonads are also known as "uni", which probably sounds better if we're going to be talking about them for a while. They're highly valued on the Asian market, and unlike abalone, which takes at least three years to grow, urchins reach adulthood in just over nine months.
How much do they cost?
They can fetch up to R4 000 per kilogram - which is a lot of money for something's gonads. Even abalone is not even R1 000 per kilogram.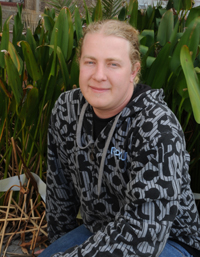 What are the benefits of farming them?
The world's sea urchin fisheries are over-exploited, and this is an untapped resource in South Africa.
Are they nutritious?
Not only are they nutritious, but they're also said to be an aphrodisiac.
What do they look like?
A commercially valuable gonad is large, has a firm texture and is bright yellow or orange.
Are they difficult to harvest?
Not if you don't mind getting your hands dirty. The animals, however, find it very difficult.
So, what does it taste like?
Similar to mussels, but uni is a lot richer, and dare I say, creamier. I always save the best-looking ones from each of my dissections to enjoy... I mean, conduct extensive tests on after hours. All you need is a little soya sauce and you're good to go.
Is it a new product?
No, they've been harvested for thousands of years in Japan. But declining stocks worldwide are a problem, and that's where my study comes in.
And finally, your goals for the future?
Is an urchin farm on the South Coast too much to ask? Just kidding. I would like to see this industry help South Africa. There's real potential to earn foreign income and provide jobs for local communities.
---
This work is licensed under a Creative Commons Attribution-NoDerivatives 4.0 International License.
Please view the republishing articles page for more information.
---