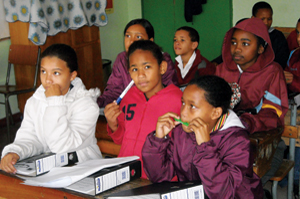 New reality: Learners gather new skills at the Delft Schools Peer-Mediation Project.
When talking about the Delft Schools Peer-Mediation Project, Francois Botha can hardly suppress his enthusiasm.
It's an initiative that Botha, a former magistrate and now director of UCT's Discrimination and Harassment Office (DiscHO), designed and launched this year to teach learners from primary and high schools in the Delft community a suite of tools for resolving conflict. Designed as a mixed-race residential area for Africans and coloureds, Delft has the usual social ills - unemployment, crime, below-par schooling - associated with poor communities in the Western Cape, plus some racial tension.
A hothouse for conflict, then.
"If attitudes, respectfulness, understanding of community and empathy are not nurtured and embraced at schools, then we're fighting a losing battle," says Botha.
The mediation project sprang from a course Botha did in 2008 with the project sponsors, the Africa Centre for Dispute Settlement at the University of Stellenbosch business school.
But it's no one-man show. Botha built up a solid support network, recruiting and training a group of cluster leaders (young community leaders), parents, principals and teachers who work with the learners at the monthly workshops and keep the project ticking over.
The learners - 20 per school - were also trained as peer mediators at a session at UCT, early in the year. It's given some a welcome sense of responsibility.
"Peer mediation changed my life," wrote one.
"I learned not to fight over unnecessary things like a pen, a ruler, even money," says another.
Archbishop Emeritus Desmond Tutu, patron of the Africa Centre for Dispute Settlement, was so taken with the project after an uproarious visit, in July, to Vergenoegd Primary School - where he met most of the learners - that he's lent his name to the programme.
Botha understands Tutu's fervour.
"The project is probably the one in my professional career that's really filled me with a new passion for being involved in social justice issues," he says.
---
This work is licensed under a Creative Commons Attribution-NoDerivatives 4.0 International License.
Please view the republishing articles page for more information.
---