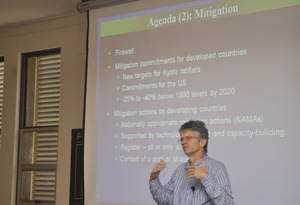 Assoc. Prof Harald Winkler of the UCT Energy Research Centre spoke at an open discussion titled Aiming for Copenhagen: Discussing climate change negotiations, on 5 August
Equity is critical and the world cannot solve the issue of climate change without the participation of all nations, including developing countries, Associate Professor Harald Winkler of the Energy Research Centre at UCT, has argued.
At an open discussion, Aiming for Copenhagen: Discussing climate change negotiations, on 5 August, Winkler said the shared vision suggests that the developing world and the industrialised countries "are in the same boat". All need to do more, with developed countries still needing to take the lead.
The difficulties about reaching an agreement in the next United Nations Climate Summit in Copenhagen, Denmark in December was the fact that the developing nations are least responsible for climate change but are most vulnerable to its impacts.
"But what can the international community do?" he asked. "The underlying question of responsibility is not an easy one. If Bangladesh gets flooded, who bears the costs of re-locating that population?"
Winkler said the developing countries' economies depend both on fossil fuels and forestry activities, and need technological, financial and capacity-building support from the developed world.
The Copenhagen summit will follow similar events in Bali two years ago, in Montreal in 2005 and in Kyoto and Rio De Janeiro in 1997 and in 1992, respectively. Expectations are for an agreement that will help reduce temperatures to below two degrees Celsius above pre-industrial levels, to avert the worst risks of climate change.
Plans for adaptation and mitigation, and the implementation of these will be on the agenda for the summit, said Winkler, who will be part of the South African delegation.
Winkler was, however, pessimistic that a break-through would be made at the summit, but a foundational agreement was still in reach.
"The worst possible outcome is a weak agreement," he explained. "No deal is better than a bad deal".
---
This work is licensed under a Creative Commons Attribution-NoDerivatives 4.0 International License.
Please view the republishing articles page for more information.
---