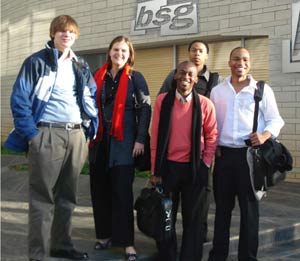 Brilliant: UCT students Richard Sadie, Theresa Janse van Rensberg, Morty Selelo, Wilson Kopman and Kgolane Thobejane won the BSG Brilliance Competition for 2009.
Five UCT students couldn't wish for a better holiday than spending a week of their vacation doing an internship at software solutions giants Business Systems Group (BSG), thanks to their innovative ideas.
The information systems final-year students - Theresa Janse van Rensberg, Wilson Kopman, Richard Sadie, Morty Selelo and Kgolane Thobejane - were named winners of the BSG Brilliance Competition for 2009, along with Derek Sanhokwe of Rhodes University. They won an all-expenses-paid internship at the company's Sandton branch.
The winners came up with solutions to problems faced by the Independent Electoral Commission in the April 22 general elections.
Selelo's 250-word idea was about a web-based system comprised of inter-linked computerised voting systems throughout South Africa.
Voting cards would be issued beforehand and each bar-coded into the system. These would hold personal details of the voter, their address, gender and their finger prints for security.
"This sort of system would allow anyone to vote at any place as long as they have their voting card, since their details can be retrieved from the online system," he explained.
At the voting stations, several easy-to-use multilingual touch-screen terminals would be available, allowing the voter to scan their voting card and ensure that their identity is verified by pressing a thumb against the screen to match the fingerprint on the bar code. Only after verification, can the user proceed to the next screen where they can cast their vote.
Animations are very important to guide both illiterate and literate users. Following the voting, a confirmation receipt is printed as a proof of voting and the terminal reset to the default screen ready for next voter.
Selelo proposed that several easy-to-use terminals at each voting station would facilitate a speedy voting process. All votes would be counted automatically and results could be verified and released on the same day.
Selelo said the internship was enriching. "I got to see what it is that I can apply to the workplace from my studies.'
---
This work is licensed under a Creative Commons Attribution-NoDerivatives 4.0 International License.
Please view the republishing articles page for more information.
---