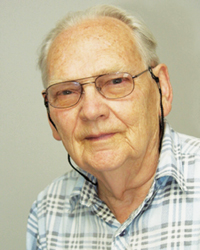 Professor Reino Stegen, a former member of staff in the Department of Mechanical Engineering, died on 5 July 2009. This brief excerpt is from Prof Jasson Gryzagoridis' tribute at the funeral.
Reino was not just my colleague and casual friend over the years; mostly he was my mentor, and a role model.
I met Reino way back in June 1965, when I first arrived in South Africa and joined the Department of Mechanical Engineering as a junior lecturer, where Reino Stegen was already an established stalwart as a senior lecturer. He was forced to accept the title of Associate Professor in 1978.
He possessed an unparallel work ethic, love, devotion and loyalty to the department and UCT Local industry had an immense respect for Reino and frequently sought him out for consultancy work.
I never saw Reino angry, nor heard him shout at any one (student or colleague) in the more than 20 years of our association at UCT, from where he retired as an Emeritus Associate Professor in December 1985.
He has left a legacy in the Department of Mechanical Engineering as a brilliant academic, which is attested to by his excellence in teaching fundamentally sound engineering. I do believe he will never be equalled.
---
This work is licensed under a Creative Commons Attribution-NoDerivatives 4.0 International License.
Please view the republishing articles page for more information.
---