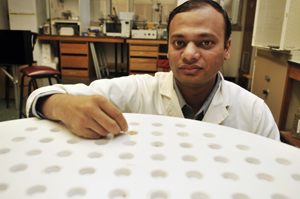 Brainy stuff: Dr Amod Kulkarni's study on transgenic mice shows improved cued learning after Alzheimer's treatment.
The outcome of his research could lead to the development of an effective combination treatment for conditions such as Alzheimer's disease, HIV dementia, and other neurological disorders. But a long, difficult process still lies ahead, says Amod Kulkarni, PhD graduate and now a postdoctoral fellow in the Department of Human Biology.
In Kulkarni's thesis, Delivery of Vaccinia Virus Complement Control Protein (VCP) and Curcumin to the Rodent Brain: Implications in Alzheimer's Disease and HIV Dementia, he found that VCP, tVCP (a derivative of VCP) and curcumin, the component that gives the Indian spice turmeric its brilliant orange colour, treated some of the symptoms of Alzheimer's Disease in a transgenic mouse model carrying the abnormal genes responsible for this illness. These compounds may also be effective in the treatment of HIV dementia.
Interestingly, India has a significantly low incidence of Alzheimer's. Kulkarni, who hails from Akola (a small city near Mumbai, India), said that though there may be a link, one would have to ingest substantial quantities of the spice for it to have some therapeutic effect.
Using a novel technology, known as quartz crystal microbalance with dissipation monitoring, Kulkarni showed that VCP and curcumin had a marked regulatory effect on the complement components (C3 and C3b) that are known to be activated in neuroinflammatory disorders such as Alzheimer's disease and HIV dementia. VCP is also known to inhibit the in-vitro activation of the complement system by amyloid proteins in the brain - the plaque-forming proteins that are present in Alzheimer's-affected brains, as they are in the transgenic mice.
As a second objective, Kulkarni investigated the effectiveness of non-invasive methods of delivery for these compounds to the central nervous system. Multiple doses of VCP and curcumin, administered through the nasal passages, were found to improve the ability of the model mice to navigate their way through a maze and to decrease anxiety levels. VCP treatment was also found to improve paired associative learning in a novel cheese board maze developed by Kulkarni.
---
This work is licensed under a Creative Commons Attribution-NoDerivatives 4.0 International License.
Please view the republishing articles page for more information.
---