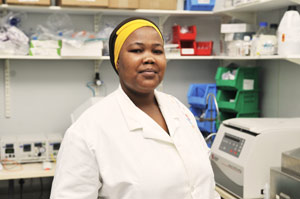 Couples living with HIV are more likely to share multiple human papilloma virus (HPV) types compared to those who are HIV-negative.
This was the finding of Zizipho Mbulawa (left), a UCT PhD student in medical virology.
In her research, she noted that female HIV-status influences the genital HPV prevalence of the male partner.
"If a female partner is HIV-positive and her male partner is negative, he is also likely to have high HPV-prevalence," she said.
Mbulawa, who is also doing an internship with the National Health Laboratory Service, presented her findings at the 25th International Papilloma Virus Conference in Malmo, Sweden in May.
HPV, a papilloma virus that infects the epidermis and mucous membranes of humans, can lead to cancers of the cervix, vulva, vagina, and anus in women, and to cancers of the anus and penis in men.
Approximately 130 HPV types have been identified, and most people who become infected with HPV do not know it.
The annual conference encompasses all areas of papilloma virus research, from clinical vaccinology to molecular biology, and acts as an educational tool for promoting cancer preventive strategies. It also creates opportunities for networking and collaboration between scientists.
Mbulawa said there are no studies world-wide that have demonstrated what they have done in their study and, based on its uniqueness and quality, was selected from 890 abstracts to be presented orally.
There were 235 oral presentations.
Since 2007, she has been working with about 600 heterosexually active couples in Gugulethu, investigating HPV prevalence, the effects of HIV co-infection and the rate of HPV transmission between them, from baseline to 24 months.
Mbulawa believes that since the HPV vaccines have been developed and licensed, it is a good idea to have studies to assist in the further understanding of the prevalence and distribution of HPV genotypes in South African men and women.
"Therefore, our study also plans to assist on this."
---
This work is licensed under a Creative Commons Attribution-NoDerivatives 4.0 International License.
Please view the republishing articles page for more information.
---