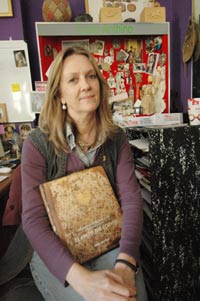 Preserving history: Claim the Country by Prof Pippa Skotnes, was included in the Outstanding Academic Title status by Choice magazine.
Professor Pippa Skotnes of the Michaelis School of Fine Art, was awarded the prestigious Outstanding Academic Title status by Choice magazine for her book, Claim to the Country.
The book and accompanying DVD brings together much of an archive on the San people, created by philologist Wilhelm Bleek and linguist and folklorist Lucy Lloyd in the late 1800s.
Claim to the Country was described by one reviewer as "hauntingly beautiful, deeply informed, and poignantly moving". Anthropologist David Lewis-Williams says the book is "surely the most amazing ethnographic source in the world".
Appearing annually in the January issue of Choice, the premier source for reviews of academic works, the Outstanding Academic Title list reflects the best in scholarly titles and attracts wide attention from the academic library community.
"I am delighted that the book has been well received and reviewed," says Skotnes. "I am particularly pleased in the light of the fact that it is a book that is avowedly about the visual and material presence of the archive and the traces of the past."
Too few books take the physical evidence of the past into account. I believe books need to become more bookish. Information is available everywhere, but a book is an object with a physical presence and life. We need to understand and take account of this."
Skotnes is currently researching nineteenth century magistrate Louis Anthing. She is also the interim director of the Gordon Institute for Performing and Creative Arts (GIPCA) until 30 June 2009.
---
This work is licensed under a Creative Commons Attribution-NoDerivatives 4.0 International License.
Please view the republishing articles page for more information.
---