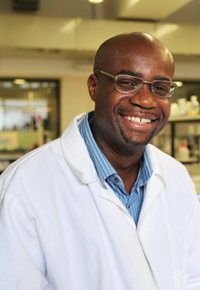 Researchers using plants to find novel compounds for drug leads have been given a technological leg-up, thanks to the Screens-to-Nature (STN) project.
Conventional procedures for the first step in the discovery of lead compounds from plants involve collecting materials from the field for laboratory analysis.
"This approach is laborious, expensive, and destructive because of the need to over-collect biological materials, transport these across countries, and then re-collect materials that demonstrate activity," said Professor Kelly Chibale of UCT's Department of Chemistry and the Institute of Infectious Disease and Molecular Medicine, and collaborator in the Global Institute for Bioexploration (GIBEX).
The STN concept allows novel portable diagnostic kits to be taken to the field, where they are tested on plants for the detection of specified classes of bioactive compounds with organismic or target-specific activity, or both.
"The procedure is non-destructive and eliminates the need to collect plants from the field without knowing the potential for bioactive principles," Chibale said. "It also accelerates the detection of lead compounds and provides an opportunity to streamline the product-discovery process."
He said alternative approaches are essential to facilitate the exploration of the huge biodiversity in South Africa for human health benefits.
The United Nations Convention on Biological Diversity discourages the movement of biodiversity across countries. Innovative approaches must allow ethical exploration of bioactive compounds from natural resources in efficient and inexpensive ways.
Among various approaches to reduce this problem, the STN concept was initiated at Rutgers University.
GIBEX developed an efficient and simple technology for field extraction of biological materials (soft or woody plant tissues and fungi, both fresh and dried) that takes less than two minutes, and requires basic equipment and less than two grams of wet biomass.
Currently available STN assays target the following infections: bacterial, protozoan, fungal and helminthic (parasitic worm) infections. Clinical targets for the cell-free STN assays include parasitic infections, metabolic disorders (such as diabetes), age-related diseases, cancers, nutritional deficiencies, and disease prevention.
GIBEX works globally with partners who are the backbone of the operational successes of the organisation around the world. They include GIBEX-Africa with its 12 partner institutions. (Chibale has been the chief co-ordinator of GIBEX-Africa since 2006, a position he will be vacating at the end of this year.)
Chibale has been instrumental in bringing African scientists working in traditional and other general biodiversity to the fore to employ these technologies.
Last year, training courses were run for African scientists by Rutgers scientists, co-ordinated by fellow UCT chemist Associate Professor David Gammon.
Similar training has been provided in Botswana and Tanzania, and workshops were held for all GIBEX-Africa partners at UCT last year.
"The UCT training on STN technologies has facilitated a welcome cross-disciplinary approach to research in plant-derived medicinal agents," said Chibale.
Using technology now available at UCT, he is working with Gammon, who earlier teamed up with botanist and director of the Plant Conservation Unit, Professor Timm Hoffman, to deploy STN screens in the Namaqualand region.
They will conduct their first fieldwork in June.
"The key aspect of this UCT-based project is the understanding of the use of natural resources by people in the region," Chibale said. "Prof Hoffman has a long-standing interest and relationship with communities in the Namaqualand region from the viewpoint of land use and land use impacts."
The use of STN would add much value to Hoffman's work.
---
This work is licensed under a Creative Commons Attribution-NoDerivatives 4.0 International License.
Please view the republishing articles page for more information.
---