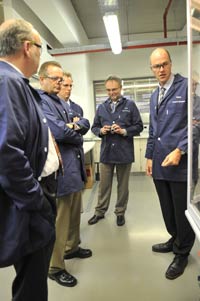 UCT's Assoc Prof Michael Claeys, right, takes DAAD visitors for a visit to the labs of the c* Change DST/NRF Centre of Excellence in Catalysis.
German higher education institutions are seeking foreign students from countries like South Africa to boost their internationalisation initiatives, says Dr Helmut Blumbach of the German Academic Exchange Service (DAAD).
Blumbach was speaking at a meeting between UCT representatives and a high-ranking delegation from 19 leading German higher education institutions, under the DAAD umbrella, at UCT on 1 April.
The delegation started their day-long tour of the campus by meeting with Vice-Chancellor Dr Max Price and senior executives. They also toured specialised research centres, including the Institute of Infectious Disease and Molecular Medicine and the c* Change DST/NRF Centre of Excellence in Catalysis.
Blumbach explained that DAAD has an annual budget of €350 million, and has 55 000 scholarship-holders, 2 800 of whom are from Africa. They also have 17 000 DAAD alumni in Africa, and 1 900 in South Africa.
Through their programmes they support 35 300 foreign students. Some 70% of DAAD's foreign graduates return to work in their home countries, Blumbach said. DAAD is also a national agency for the European Union's mobility programmes.
Among their goals is the development of educational co-operation with developing countries and to provide scholarships to foreigners. They also foster greater internationalisation at German universities.
Blumbach, head of DAAD's Department Southern Hemisphere, said German academic institutions were keen to recruit students from the country and further afield.
"We'd like to attract South African students to study and research at our institutions."
---
This work is licensed under a Creative Commons Attribution-NoDerivatives 4.0 International License.
Please view the republishing articles page for more information.
---