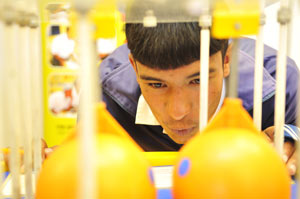 Scientist in making: Zubair Noordien, Grade 9, Princeton High, tests his science skills during the UCT Science Day at Spine Road High School in Mitchell's Plain..
School children cheered, whistled and applauded in the Spine Road High School's sports hall in Mitchell's Plain - but not because their sports team was winning a tournament.
The buzz was inspired by a scientist who had just turned a cocktail of chemicals into a cola drink, all part of UCT's outreach Science Day on 4 March.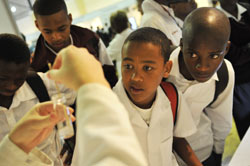 About 1 700 learners from 20 schools in Mitchell's Plain and Khayelitsha made their way to the outreach showcase of interactive exhibitions, hands-on workshops and presentations.
These were presented by a score of departments from the Faculty of Science, as well as external organisations such as iThemba Labs, the MTN Science Centre, Iziko Museums, the South African Weather Service, the Western Province Blood Transfusion Service and the Kirstenbosch Botanical Gardens.
The idea is to take science to the community and expose learners to careers in the field, said the science faculty's Katherine Thomson. "We want to get them actively involved in science and show them that science can be fun."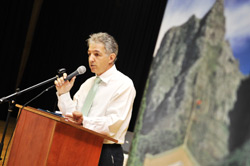 Vice-Chancellor, Dr Max Price, told the students that Dr Nashia Stellenboom, an ex-Spine Road learner and currently a postdoctoral fellow at UCT - she completed her BSc degree, honours and PhD here - is an example they should follow.
He said the university is not for the elite, and students don't need to be exceptionally bright to be accepted, but just need to work hard, as Stellenboom did. "We want students from these communities, and we believe no one is unable to afford to come to UCT," he said.
---
This work is licensed under a Creative Commons Attribution-NoDerivatives 4.0 International License.
Please view the republishing articles page for more information.
---