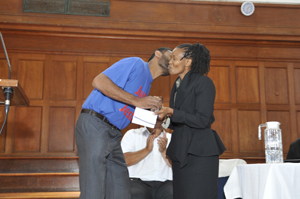 Fasting for Zimbabwe: Kumi Naidoo (left) hands a glass of water to Nomboniso Gasa, marking the end of his 21-day fast against the crisis in Zimbabwe and the start of hers. They were among the speakers at UCT's Zimbabwe Response Assembly.
There would be no let-up on the Zimbabwean crisis despite the newly brokered power sharing deal that saw Movement for Democratic Change leader Morgan Tsvangirai sworn in as prime minister of that country this week.
"There is no room or reason for complacency," Deputy Vice-Chancellor Professor Thandabantu Nhlapo said in his welcome at the Zimbabwe Response Assembly, hosted by UCT and held in the Jameson Hall today (Friday 13 February).
The assembly was intended to mobilise support for South Africa's ailing neighbour and the many Zimbabwean students at UCT who face difficulties in paying for tuition, food and residence.
The gathering was attended by staff and students. Speakers included Vice-Chancellor Dr Max Price, SRC president Chris Ryall, Zimbabwean student Faith Chirunda of the International Students Forum, Professor Brian Raftopoulos of the Crisis in Zimbabwe Coalition Board, Kumi Naidoo, honorary president of CIVICUS: World Alliance for Citizen Participation, and Nomboniso Gasa of the South African Commission for Gender Equality.
In a poignant exchange, Naidoo handed a glass of water to Gasa, marking the end of his 21-day fast and the start of hers.
"This assembly is linked to the handover of the 'baton'," Price said afterwards. "They are all role models for us. They are not Zimbabweans. They have no vested interest in the country but they share a common humanity."
He called on the university community to pledge their support.
"It's UCT's duty to society to give a moral lead and to educate our students in the duties and responsibilities of citizenship."
Chirunda said it was imperative that Zimbabwean students complete their studies.
"Let's go back and build the walls. Let the days of passivity be over!"
Raftopoulos said that it was clear President Robert Mugabe was nearing the end of his road. But he warned that Mugabe's legacy would not be easily shed in rebuilding the country.
---
This work is licensed under a Creative Commons Attribution-NoDerivatives 4.0 International License.
Please view the republishing articles page for more information.
---