Two honorary degrees were also awarded at last week's ceremonies; a Doctor of Science (honoris causa), to Professor Jonathan Dorfan (8 December) and a Doctor of Laws (honoris causa) to Claire Palley (12 December).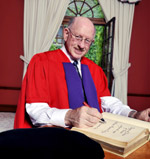 Dorfan obtained a BSc degree in physics and applied mathematics in 1969 from UCT, and later obtained a PhD in experimental particle physics from the University of California, Irvine. Upon acquiring his doctorate in 1976, Dorfan joined the Stanford Linear Accelerator Centre (SLAC) as a postdoc, and two years later as a staff scientist. He was promoted to Associate Professor in 1984, full professor in 1989 and associate director in 1994. As SLAC director, Dorfan managed the most important transition in the history of the laboratory. Traditionally a single-purpose particle physics research centre, SLAC has become a multi-programme laboratory, whose largest programme in 2009 will be in Photon Science.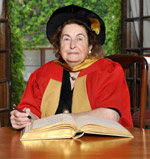 A South African, Palley was the first woman to become a law professor in the UK and the dean of a law school. She graduated LLB from UCT in 1952. In 1965 she obtained her PhD from the University of London. She has an MA from the University of Oxford (1984) and an LLD (honoris causa) from Queen's University, Belfast. She began her academic career as a lecturer in law at the University College of Rhodesia and Nyasaland (1960 - 1965). After leaving Rhodesia, Palley moved on to a distinguished career as an academic. Between 1971 and 1973 she was Dean of the Faculty of Law at Queen's University. In 1974 she became Master of Darwin College, University of Kent at Canterbury, and from 1984 to 1991 was the Principal of St Anne's College, Oxford. She pioneered the way for women in academic law, in a profession known for its conservatism.
---
This work is licensed under a Creative Commons Attribution-NoDerivatives 4.0 International License.
Please view the republishing articles page for more information.
---