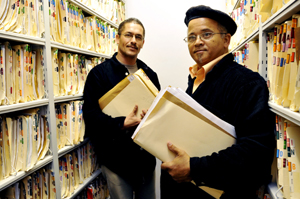 The heartbeat: Oscar Scheepers and David van Sensie keep the HR Registry ticking over.
The Human Resources Registry office is known to its staff members as the "heartbeat" of UCT. It is entrusted with confidential personal information of all UCT staff members, from the Vice-Chancellor down to contract employees. David van Sensie, registry controller, and Oscar Scheepers, registry assistant, are the two staff members working there.
What does the office do?
The office looks after the records of academic, research, professional, administration and support staff, contract employees as well as those of the retirees. Van Sensie and Scheepers see to it that all documents are filed correctly in alphabetical order or according to executive, department, permanent or contract employees ranks. The files contain personal confidential folders such as letters of appointment, and information on benefits, salaries, pension funds, medical aid, leave, payments and performance records. This information is supplied mainly to the HR staff, who work with UCT staff queries, but general staff may also have access to their files. The office also confirms employment to business organisations when individuals open accounts with institutions such as shops and banks.
What are the challenges facing the office?
Unlike many work environments, the HR Registry has no peak and low seasons. It is an on-going paper chase from January to December. "We will go on until retirement," jokes Van Sensie. The work requires speed, accuracy and good time management. "And we must do it right the first time. There is no place for misfiling," Scheepers notes. "It is difficult to keep up with the volume of paper work. You need to work smart." This is compounded by the lack of space. "But thankfully we have a radio to keep the stress levels down," said Van Sensie.
What are the highs and lows?
The low points are when people come with long lists of requests. This demands that a number of files be found to extricate the information, "which is terrible". And it frustrates the two men when people mark their requests as urgent but then take ages to collect it. But the fact that Van Sensie and Scheepers are entrusted with the university's confidential information makes them feel great. "We are the heartbeat of UCT," said Scheepers. And they get compliments all the time.
What strange requests have they received?
They often get phone calls from shops and banks demanding payment from people who had pretended to be working at the university but had left long ago.
---
This work is licensed under a Creative Commons Attribution-NoDerivatives 4.0 International License.
Please view the republishing articles page for more information.
---