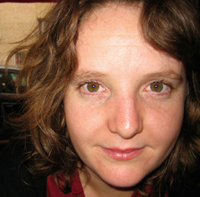 UCT alumna Robyn Rorke's documentary, Shamiela's House, about a "milk and cookies" mom's fight to save her Mitchell's Plain home, will be screened in Parliament on 12 November as part of the 2008 South African Film Festival.
This is the longer version of the film that won the 2008 Best South African Documentary. Rorke is working on a master's degree in human geography.
The festival is being hosted by the Parliamentary Millennium Programme (PMP), Parliament's nation building programme, and the National Film and Video Foundation.
Shamiela's House is an intimate observation of a mother's struggle to save her home and her children from being evicted by a mismanaged state-funded housing company. The battle for her home becomes a balancing act between her roles as an activist, a leader and a mother.
"Her first-person account of her experience intertwines with observational footage, leading residents from burning tyres through the halls of power," Rorke explained. "Tension mounts as the community splits between those who support negotiations, and residents who want to resort to revolutionary tactics to be heard.
"It is a sober reflection on the state of South Africa's democracy".
Rorke has been researching grassroots activism in Cape Town since 2005. The film grew from her master's research in human geography while she was a Potter Fellow, but which she has not yet completed due to ill health.
"My thanks go to UCT, the Potter Foundation and Dr Sophie Oldfield, who is the most brilliant supervisor in the world."
Rorke has spent the past year undergoing treatment for rare temporal lobe epilepsy.
"Even when you are disabled, don't let it stop you."
---
This work is licensed under a Creative Commons Attribution-NoDerivatives 4.0 International License.
Please view the republishing articles page for more information.
---